About 9 years ago, I started moving our treasured photos to Creative Memories albums. I love the way they tell the story of Us: Our faith. Our love for each other. Our family.
Even though
, I am always behind and I may never finish, each album is a labor of love and truly a blessing to me.
As I relive each picture and the memories that go with it...I am constantly forced to realize how quickly time passes. In doing so, I must consider what I've done with the time that has gone by. How have I served my God in this time? How have I blessed my family? How have I served those around me? What have I done for the future? Have I done enough for eternity? Have I realized any of my hopes and dreams? In short...is my living worthwhile.
In constantly
reflecting
...I am encouraged to work for change and improvement almost on a daily basis. I pray, in so doing, I am making the most of each moment here on earth for God, myself and each person whose life I am
privileged
to touch.
All that said, in working on my albums, I noticed a lack of pictures of me in what was essentially my life story! When I was discussing this with my dear friend, and creative memories consultant, she told me that many moms have the same revelation when they start work on their albums. She passed on a suggestion from her niece to hand the camera off to someone else once in a while. I have tried to do that at least once at each gathering where we are taking a lot of pictures. When I started an album for my husband telling our story a few years ago, I realized I was doing better with pictures of me but we didn't have enough pics of us together to do even a small book. So, I have started getting snapshots of us together every once in a while, too.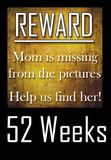 I saw this 52 week challenge on Carin's blog
http://wyomingbarnetts.blogspot.com/
I was intrigued and thought it would be fun to play along. The idea is that once a week you take a picture of yourself with one or more of your children. It's that simple. If you'd like you can post your picture on your blog. You can let me know you posted so I can check out your pics. You can also Click below for more info or if you'd like to add your name to the Mr.
Linky
. I don't know how to set that up so you'll have to go to Carin's site to do add your name. If you can tell me how to set up Mr.
Linky
, I'd be glad to add it. So, have fun!
Here is my first picture.
Brianna took this picture of
Aedan
and I on Sunday. We had just buried his pet lizard, Flo. He just couldn't pull himself away from the peach tree where we had put her. So, even though it was getting cold and starting to rain and I was going to be late to our evening service...I sat and we hugged and we just thought about how sad we were at that moment
.
It is not a great picture but it is my favorite of the week because it is a shared moment that ten years later would have been lost forever. Now, each time I see this picture I will be reminded of the opportunity I had to share a very important lesson with my son about the comforting arms of his parents and more importantly his heavenly Father who can bring him comfort in all things.
Have a great day and don't forget your camera!