I've accepted
Carin's
challenge, as a Mom, to get back into the picture. The idea is that once a week you take a picture of yourself with one or more of your children. It's that simple. If you'd like you can post your picture on your blog. You can let me know you posted so I can check out your pics. To check out my first week click
here
You can also Click the button below for more info or if you'd like to add your name to the Mr.
Linky
. I don't know how to set that up so you'll have to go to Carin's site to do that. If you can tell me how to set up Mr.
Linky
, I'd be glad to add it. So, have fun!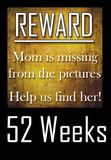 I think I am breaking the rules already. Here is a picture of me and my friend Miss Lorene. It's not one of me and my kids but I am in there. I have been blessed to call Miss Lorene a friend for some time. She makes the best banana pudding, fudge and peanut brittle in the world. She doesn't usually share her 40 year old secret recipe for brittle, but she agreed to teach me how to make it. This is her and I in my kitchen yesterday morning.
We had to tie our hair up thus the fashionable scarf. Isn't she lovely? Miss Lorene is 76 years old and a every inch of her is a Southern Belle. This soft spoken lady is a woman of virtue in every sense of the word.
Miss Lorene is amazing. She started her life as the daughter of a poor tobacco share cropper in the leanest of conditions. She said not only didn't they have toys or indoor plumbing but they didn't have toilet paper most of the time. Yet, with a smile on her face she said they never knew they were poor.
In a time when it was a shame to be a single mom, Miss Lorene's philandering husband took off leaving her alone with 3 boys. She lifted her chin, learned how to play football and baseball with them, got a job and made them into 3 fine men.
When she survived cancer not once but twice she told me it was so she could give me my hugs every Sunday morning.
Miss Lorene treats everyone like a child or grandchild. As each of my babies were born she would make dates to come and sit in my rocker and cuddle them. Not because she doesn't have a quiver full of her own
grand babies
, but because her love extends to everyone the Lord has put into her life.
Miss Lorene still suffers severe medical problems. Someone who wasn't in her confidence would never know it, though. She spends her life with a smile on her face in service to those around her. She has a sharp wit and quick sense of humor. Oh, and her hair and makeup are always perfect to boot.
I have truly been blessed to call her my friend and sister in Christ...and it's not just because she will sit and eat 2 1/2 pounds of peanut brittle with me.