I've accepted
Carin's
challenge, as a Mom, to get back into the picture. The idea is that once a week you take a picture of yourself with one or more of your children. It's that simple. If you'd like you can post your picture on your blog. You can let me know you posted so I can check out your pics. To check out my first week click
here
or week two click
here
. You can also Click the button below for more info or if you'd like to add your name to the Mr.
Linky
. So, have fun!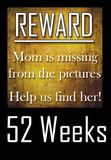 This is Ellie (16 months) cuddling with me. When my older 3 girls were babies, there was nothing I loved more than sitting and cuddling with them. I would sometimes spend hours or even the better part of a day or night just rocking them, reading to them, praying over them and cuddling. They loved it, too.

Then I had boys. Don't get me wrong. I still wanted to sit still and smell their babiness. And they were OK with it until they were about six months old. Once they started crawling and learned there was a world outside of Mama, those boys wanted nothing to do with cuddling anymore. Now that they are older, they will come at different times and just sit and cuddle or read but for all the years of breastfeeding and diapering, there was a definite drought on baby cuddles around here.

I adore my sons. And we have so much fun together. I am amazed at their caring and gentleness and the way they look out for their Mama and sisters. I would have been so happy to have a another healthy son. However, when I was expecting my last baby I longed desperately for a little girl who would just sit on my lap and be content for a while. I can not explain the unspeakable joy when, after 3 days of labor, the doctor announced Elisabeth Claire was joining our family. At long last I would get my snuggles again.

In an instant all the hugs and pink and fluff I'd been missing flashed before my eyes. My husband was ecstatic with me. I can not tell you how many times in the next few minutes we asked the doctor if she was certain. And then each time, we looked at each other and said, "Can you believe it? Another little princess!"

But Elisabeth is not a cuddle baby. Well, she started out that way. We stayed in the hospital for 12 hours and I don't think I set her down once with the exception of when they examined and bathed her. One of the first days after her birth, my husband took the other children out for their annual shopping for mom's Christmas gift date. That is only one day every year that I have the house all to myself. It is a really big deal for them and they make a whole day of it and go to dinner afterwards. I usually do something I really enjoy but don't have time for. Sew a dress, put together a scrapbook, bake something, call my girlfriends...

Not that Christmas. I sat around in my pajamas all morning without even putting makeup on. And I held my little girl. I had no breakfast to fix. No school to teach. No noses to wipe. And who cared about the dust? It wasn't going anywhere. Later, one of my dearest girl friends called and she came over. And together we sat and took turns holding my little girl for most of the afternoon.

I am not sure exactly when it happened, but somewhere down the line Ellie decided she didn't want to cuddle anymore. She wanted to hit the floor and chase after the other kids. I was no longer entertaining enough for her. When we went on vacation in September, she became very ill. She lost a great deal of weight and was very weak and lethargic. She couldn't sleep or eat. She just wanted to sit.

As terribly worried as I was for her, you can bet the best part of that month was the hours and hours of cuddle time I got with Elisabeth. Many days she was too ill to accompany us to Disney World and I would try to convince the family to go on without us. I didn't want everyone to miss out. They would have none of it, though. Opting to stay at our rental house and swim, play tennis and go to the movies instead. Worried that I would feel left out.

What they didn't understand was that sitting with her, cuddling and dozing in the chair while she slept in my arms was better than anything Mickey Mouse could give me. We had a great time on that trip and I have wonderful memories of swimming, playing tennis, Disney World and the beach. But, my favorite by far is the afternoon sitting in the overstuffed chair cuddling my little muffin.

So, now you understand why this ordinary looking picture is so special. In an odd moment of insanity, Elisabeth just wanted to lay on my shoulder. Everything was going on around us...dinner, baths, cleanup...but I sat. As the little ones came running to me, asking for this and that, the older girls and my husband shooed them away telling them not to bother Mama.

And someone grabbed the camera.