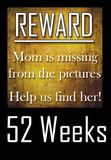 I've accepted Carin's challenge, as a Mom, to get back into the picture. The idea is that once a week you take a picture of yourself with one or more of your children. It's that simple. If you'd like you can post your picture on your blog. You can let me know you posted so I can check out your pics. You can check out my previous weeks or Click the button above to add your name to the Mr. Linky. So, have fun!

Just for fun
This is not the picture I was planning on posting this week. However, I've been working out with Jillian Michaels and I can't help but think that everyone on the world wide web should see how glamorous I look when I am sweating. So, this first picture is Elisabeth and I doing the Shred.
I
was minding my own business, panting and doing crunches, when she laid down beside me and started kicking her legs, too. I do think she was cheating a little because I never saw her shoulder blades leave the floor.
Albeit, her clothes are coordinated instead of the obvious, "I threw my skirt on the bed and threw on the
first pair of sweat pants I could find with no concern with whether or not they match my green shirt deal" that I've got going.
This one was an afterthought, also, but I think it is cute. Today after lunch I said I was going to walk out to pick up the mail. Samuel asked could he walk with me. I said he could and we stood up. Then Nathaniel asked if he could go, too, and we started out the door. By the time we hit the driveway, Aedan was in tow. Brianna grabbed the camera, because she thought the site of four of us walking to the end of the drive and across the street to pick up one newspaper and 4 pieces of junk mail was too good to miss. Can you tell she is the daughter of a scrapbooker?
Unfortunately, I have not time to write the post I have been planning about Mother's Day. But enjoy these and as they said it will be better late than never when I get around to it.