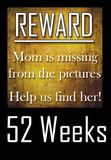 I've accepted
Carin's
challenge, as a Mom, to get back into the picture. The idea is that once a week you take a picture of yourself with one or more of your children. It's that simple. If you'd like you can post your picture on your blog. You can let me know you posted so I can check out your pics. You can check out my
previous weeks
or Click the button above to add your name to the Mr. Linky. So, have fun!
My picture for this week is from Mother's Day. This is me and my two young ladies. Kaitlin on the left and Brianna to the right. Notice how tall they are. I am wearing 5 inch heels with this outfit. Allen snapped it after we had a breakfast of fresh baked scones in the garden and before we ran out the door to church.
Looking at this picture amazes me. In so many ways. My first thoughts are about what beautiful daughters I have been blessed with. And, although I think their physical beauty is abundant, what I am referring to is their hearts.
So many people lament their relationship with their teen aged children. Even among Christian parents, I often hear tales of how horrible the teenage years are. And in the secular world, the report is far worse.
That has not been my experience. My older girls, now 17 and 13, are two of my best friends. We enjoy working, sewing, cooking, cleaning, shopping, reading, crafting, teaching, playing, singing, gardening, and the list could go on forever, together. I have many friends, but I rarely spend much time with them because I enjoy my time with my girls so much.
They are very well read and thoughtful and we enjoy intellectual conversation together about history, science, scripture and most of all spiritual things. I feel I can speak freely with them on just about any topic. Likewise, I believe they know that should they choose, they can speak freely with me.
I appreciate that they are not afraid to lovingly show me when I have wrong attitudes or need to work on something. Just as I do with them. They encourage me in so many ways. When I am tired, stressed, overworked, under prayed...add any adjective here.
They show me such care and concern. I was diagnosed with diabetes several years ago. This means I need to eat a careful diet at carefully planned times. And exercise daily. If I do so, I don't have to take medicine. They regularly ask me if I checked my sugar today. Did I eat my snack? Have I exercised?
Oh, and they don't stop with asking. They will bring me a snack if I am busy. Exercise with me when I can't stand the thought of it. Rub my feet when the pins and needles set in. They have learned to plan meals to suit my special diet.
They pray for me. They pray with me. Sometimes, I ask them for special requests, but mostly they know when I need prayer. It is not uncommon for them to ask me about this or that and let me know that they prayed about it for me.
When I get an idea, even if it seems wacky, they immediately embrace it and run with it. No matter how odd it may seem. I've mentioned before, that we don't have enough dining room for our table. Especially, when we entertain. My table extends 10 extra feet but my dining room is only about 12 or 13 feet. Last year, I was tossing around the idea of switching my small eat in space with my very long and narrow living room. That way we could extend our table for more comfortable entertaining.
My darling husband, thought it was an odd idea. We have no foyer and so guests would be walking into our dining room from the front door. Plus, our formal living room furniture would be in the tiled eat-in nook of our kitchen. And that nook, as mentioned previously, is quite small. He thought this would be a problem when the family came to visit. I saw his objections, but still wanted a dining room that would be more suitable for the bunch of us. He would have tried it for me sometime, but I never quite got the idea cemented enough in my head to ask him to do it.
One night we went out to dinner with my in-laws, though. When we returned home, we walked into our dining room. Those girls had gotten all the kids together and they moved every bit of furniture, including the huge armoirs and dining room table. Which, if you read my post, Around my Dining Room Table, you know is very large.
My girls are very thoughtful. It is not unusual for one of them to say, "Why don't you and Pa go on a date tonight. We will watch the kids for you." One time Brianna got a little clock, picture frame deal and put it on my night table so that the kids could take turns leaving me notes and drawings. And their thoughtfulness is rubbing off on their younger siblings, who are growing to be thoughtful, not just to their Pa and Mama, but to their siblings, neighbors and strangers as well.
And they have great sense of humors. I have a pretty good time in my garden and can get just about anything to grow. It is not my knowledge or ability, mind you. For I just try things and it happens to work. It is one way that God blesses me. So one day, recently, we were talking about how I can get anything to grow, but can't manage to get mint to stay alive more than one season.
It is a big joke in our extended family, too. If you know anything about mint, you understand the funny. The stuff is almost impossible to kill. My dad had a little patch that took over his entire garden. He sprays weed killer on it and it still comes back every spring.
A few weekends ago we were working in my herb bed and I was surprised to see my mint is indeed coming back. I must have said something about it aloud because the joke started again. Brianna said, "Mom, since you can't grow something as simple as mint, maybe you should try orchids." Well, what do you think was at my place when I sat down to breakfast on Mother's Day? Yes, a stunning orchid.
Oh, and did I mention how talented they are? Art, piano, singing, and acting are just a few of the abilities they have managed to develop. They use these gifts in wonderful ways to praise God and serve others, like volunteering their time to teach piano.
When I look back at Mother's Day with these two girls, I again reminded of God's grace and blessings. My very first Mother's Day, I was a few months along in my pregnancy with Kaitlin. I was admitted to the hospital that day with complications. I spent the next 6 months in and out of the hospital and on medication to try to stop preterm labor. Even the doctors were quick to admit that it was only by God's doing that she was born perfect and only 5 weeks premature. When we left the hospital, she was a week old and weighed 4 pounds 10 ounces, yet today she is the picture of health, strength and beauty.
When she was a month old, KK became very ill. She was admitted to the hospital for a week due to kidney problems that would return her to the hospital many times over before she turned five years old. The only sign left of that struggling baby today is her strong and determined spirit to overcome whatever curve ball is thrown her way.
Four years later, on Mother's Day, I was again on bed rest reliving the same scenario pregnant with my "little" Brianna. And you can see, despite being born premature and blue, requiring resuscitation, that today she is a strong and healthy...and, yes, tall...young lady.
In all of this, the greatest blessing that comes to mind, when thinking of my girls, is their love for our Saviour and desire to serve Him. It is constantly manifested in the way they give of themselves. Volunteering to babysit, sew, cook, and bake for busy moms. Teaching piano to others. Writing letters and visiting with the elderly as well as giving of their time to reach out to others younger or in need of a friend.
Most Mother's Days I have spent focusing on the blessings of the women in my life who have been an example to me and blessed me as a daughter. But this year, the Lord really impressed upon my heart how blessed I've been by the not yet mothers he has placed in my care. After spending a few weeks considering it, I realize how unworthy I am to be their mother. They have far surpassed what I was at their age, my expectations for them, or the woman that I am or could ever hope to be. It seems far too simple and inadequate to say that I am proud to be their mother. But there you have it...I am proud to be their mother.