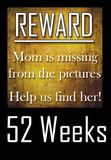 I've accepted
Carin's
challenge, as a Mom, to get back into the picture. The idea is that once a week you take a picture of yourself with one or more of your children. It's that simple. If you'd like you can post your picture on your blog. You can let me know you posted so I can check out your pics. You can check out my
previous weeks
or Click the button above to add your name to the Mr. Linky. So, have fun!
And Lucky for you...it seems like I had a very photogenic week!
Since I was writing about my sister yesterday, I thought I should dig up the last picture of us together and let you know who she is. This is Diann, my "baby" sister who lives with her Navy husband in Italy. Our dad took this picture just before she left to return home in April. This was a special visit for us because just before she came to stay she found out she was pregnant after many years of suffering infertility. I will be glad with whatever God sends, but wouldn't it be nice for Elisabeth to have a little girl cousin?
Aedan took this shot of Ellie and I on the see-saw last Tuesday...when the weather was perfect.
This photo was taken by our friend, Bruno...after our last class and final exam of the semester. These are my family members that all go together. It has been an amazing blessing for us to do this together this semester. I am going to miss our Monday nights this summer and look forward to the fall semester. In the back from the left is my brother(Frank) Dad (also Frank) and hubby (Allen...but you knew that.) Front row is my daughter (Kaitlin) Me and my mom (Judy).
And this is Me with Gracie (left) and Emma (right). Gracie, my best friend's daughter is staying with us for a week while she and her husband travel. As it turns out Gracie and Emma are the same age and she also happens to be Emma's best friend. Last night Allen and I took them on a date for a late night showing of Night at the Museum. Which happens to be a fun movie and good for kids. (Although, they did have to cover their eyes during the violent previews.) We had a fun time and it was special for the girls to get dressed up and go out LATE at night just the four of us. I have been sick the last week, and so the fact that I fell asleep for the last half hour does not reflect in anyway on the entertainment factor of the movie.