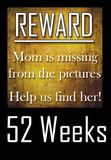 I've accepted Carin's challenge, as a Mom, to get back into the picture. The idea is that once a week you take a picture of yourself with one or more of your children. It's that simple. If you'd like you can post your picture on your blog. You can let me know you posted so I can check out your pics. You can check out my previous weeks or Click the button to add your name to the Mr. Linky. So, have fun!

Before church on Sunday I wanted to take some pictures of my good husband with the children. Only it had rained overnight and the yard was very soft. Allen carried me to the redbud tree so I wouldn't ruin my shoes. I think he forgot that I weigh 40 pounds more than when we were married. That short trip across the yard reminded him, though.


And after I took some shots of him and the children, he requested some of us together.
I couldn't decide which one I liked best. Being serious for the camera or him getting ready to give me a peck.
And this would be me and the children giving a tribute to our favorite Pa, Wachter style. We like to mark special occassions with the gift of our talents...LOL. Sometimes we do a skit. Other times we recite a poem or sing a song. Our favorite, is to make up our own song, which is what we did for our Pa on Sunday. Sometime, I will order the correct cable to upload some footage and show you what having 7 kids can do to your brain. I mean, how creative you can be when you have 7 children to spur you on and keep you young. I am the one in the yellow and vacation hat.