I've accepted
Carin's
challenge, as a Mom, to get back into the picture. The idea is that once a week you take a picture of yourself with one or more of your children. It's that simple. If you'd like you can post your picture on your blog. You can let me know you posted so I can check out your pics. You can check out my
previous weeks
or Click the button to add your name to the Mr. Linky. So, have fun!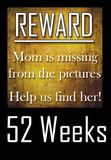 As I explained yesterday, on Friday we went to see a movie "
UP" in 3D
. I took a picture with the whole family in 3D glasses...which I happen to think was really cute. I stopped on the way home and printed out a 5x7 to make a thank you note for my folks. When we got home, my hubby realized I was missing from the picture and insisted on taking my picture so he could photo shop me in. So, in case you wanted to know how stunning I look in 3D glasses...
And this is what I look like on Sunday morning when we are supposed to be pulling out of the driveway and Samuel's suit needs a few little alterations. And, yes, this is a typical Sunday morning. There is always a button that ends up missing at the last minute or a pair of knickers that need a tuck to stay up.
And this is what I look like sharing a little secret with Emma Rose at lunch on Sunday afternoon.
It was so secret, that I forgot what it was.