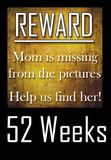 I've accepted
Carin's
challenge, as a Mom, to get back into the picture. The idea is that once a week you take a picture of yourself with one or more of your children. It's that simple. If you'd like you can post your picture on your blog. You can let me know you posted so I can check out your pics. You can check out my
previous weeks
or Click the button to add your name to the Mr. Linky. So, have fun!
I grabbed my camera on the way out the door to the library yesterday. That's when it occurred to me that I didn't have a photo for this week's post. I stopped Brianna on her way to the car and asked her to snap a picture of Elisabeth and I. I love the look on her face. Doesn't it just say, "I am so sick of pictures?"
And this one of the whole family was taken at the library story time. But wait! Where is Brianna? That's her dressed up like Froggy! She and Kaitlin often volunteer at our little library. They've dressed up as various storybook characters over the years to entertain the story time crowd. We received a little surprise when Pa showed up at the end to check out his daughter's performance.


And this one, Allen snapped as Nathaniel was escorting me to the car. He is growing up to be the perfect gentleman. This afternoon, he held an umbrella for me, opened the car door, carried my bags and held the door for me as we ran our errands.
Which brings me to this one. Sometimes, it is hard to get one on one time with the kids. We try to have "dates" when we can. Once a week I go for allergy shots and I try to take one child with me each time. After, we stop at the McDonald's around the corner for a drink or parfait.
Every other Wednesday, I go to pick up our produce coop order. This has become another great opportunity for dates. Today, it was pouring down rain and I didn't want to take everyone out to run errands, so Nathaniel rode along with me and we chatted and sang along to a CD. And here we are at McDonald's sharing some quality time over unsweetened tea and parfaits.
I am not very good at self portrait...my arms are too short...but I think we got the memory anyway. This is my favorite picture for this week. It will remind me of a time when I realized my little Prince was becoming a gentleman.
I guess I didn't need to worry about not having a picture after all!