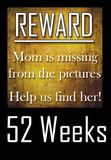 I've accepted
Carin's
challenge, as a Mom, to get back into the picture. The idea is that once a week you take a picture of yourself with one or more of your children. It's that simple. If you'd like you can post your picture on your blog. You can let me know you posted so I can check out your pics. You can check out my previous weeks or Click the button to add your name to the Mr. Linky. So, have fun!
Last night I mentioned to Allen that I didn't have a picture for my 52 week challenge. Without missing a beat he said, "Use the one I took of you in the garden." I had actually thought of that one because it is the only one of me this week but discarded it because... well, quite frankly, I was in my nightgown. And, even though, it covers everything important, I couldn't decide if it might be inappropriate to put a picture of myself in my nightgown on the Internet. In the end I decided, if he thought it was OK than it probably is. So, if you won't be offended by it, and you work your way through this story you will see somewhere down a way, my picture for the 52 week challenge.
And I am actually killing a few birds with one stone, because I have been working on this post for a little while. And I am working in pictures that I have been promising to my sister for months. You will essentially be taking a tour of my gardens. Which have been a 7 year labor of love. And in some places is still a work in progress.
When we bought our house there was grass straight up to the house on all four sides and bushes growing over the gutters. That's what we started with. I wish I had the oomph to go dig through the old photos to show you what it was in the beginning, because except for Anita, who saw it way back then, none of you, my dear readers will fully be able to grasp what I mean.
Grab a cup of coffee because it may take a few minutes to get through all of it. Please don't doze off on me!
This is the deck that Allen added on to our master bedroom, as a gift for me, several years ago. The table and chair in the corner is my favorite place to sit and be with God. Especially, in the early morning when there is no traffic and I can hear the birds and watch them come to feed. I actually, took this picture around Mother's Day, so that my sister could see the Iris's that she gave me. I planted them several years ago and have never seen more than a couple of blooms on them, but this year I counted more than a hundred blooms just near the steps. So, Di, here is that picture I've been promising you. Thanks for the beautiful garden.
I usually think of distraction in a negative sense. The kids are distracted and not paying attention to their lessons. Someone got distracted on their way to the pantry and forgot what they were supposed to bring up to the kitchen. A child is distracted and not completing their chores.
I am a goal oriented person. And I always have lots to do. The smooth running of our home and school require everyone to do their part in a timely manner. I am not very tolerant of distraction. As a matter of fact, I constantly sin by getting irritated and frustrated at distraction.
An incident with some bees this particular morning gave me a little lesson in distraction. Not all distraction is bad. A little distraction, at times, can even be good. In fact, I realized that sometimes distraction is God's way of taking us away from the day to day to a better plan He has for us.
As I was sitting on my deck, having my time with God this morning, Aedan came out and sat beside me. Then he started chit chatting away. I was trying to read and study and pray. I was trying very hard to not be irritated.
After all, this is one of the things I love about having children. Just listening to them. And, I love when they seek me out to talk to me. And that is something I will miss terribly one day.
But, I needed to be with my Father for a while. I looked at him, gave him a big smile and said, "I am so glad you came here to look at the flowers and hear the birds and be with me. But, Aedan, would you please sit quiet for a little while? I am trying to talk to God and I need to hear him speak."
He looked at me and gave me one of his biggest smiles back and said, "Mama, how do you do that? I have never heard God talk to me."
So, this distraction is paying off. I explained that just like we speak to God in prayer, if we sit quietly while we pray, God will answer us in a quiet voice through the scriptures we have hidden away in our heart and through our Bible study.
Well, he was thrilled with that. He sat beside me and closed his eyes and waited for God to speak to him.
I settled back into my study for about one more minute before another distraction came along. He pulled up a chair and sat down on the other side of me. Any other time, I welcome my husband by my side. But, gee, I wanted just a few minutes more.
God, had another plan, though. As we sat there discussing why he was sitting beside me instead of laying pavers (his current Saturday project) a swarm of bees made their entrance.
Now, Thursday, as I was sitting with Brianna on the deck I was stung by not one but two bees. Allen went in search of the source and found 3 nests. He killed them all and removed them.
And yet, here was another. We saw that they were living in a crack between the siding and trim on the door. The only way to escape was off the deck and into my garden.
Once Aedan and I were safely out of the way, standing on the path I had worked so long and hard to make, Allen got the spray and quickly killed that nest.
And that is when I got distracted. Before I knew it I was pulling weeds, deadheading plants and removing brown leaves. I didn't even realize what I was doing until I looked up and found a camera pointed at me. That's when I realized I was in my nightgown! OOPS! Lesson learned: distraction may lead to you being caught outdoors inappropriately dressed.
I quickly forgot the nightgown part as I worked my way around the beds. In fact, the camera reminded me of the pictures of my gardens that I keep promising my sister. So, I took the thing from my dear husband and wandered all over the yard taking pictures of changes and growth since she left last May.
It wasn't long before I forgot what I was taking pictures for and began communing with God as I recalled the blessings that God has bestowed on my family in the home and land he provided for us. I looked at what was once nothing but grass all the way up to the house and saw the beautiful holly bushes and azaleas. I had to laugh when I recalled our first attempt at making the plot into something beautiful. It felt a hundred degrees that day when I was putting the wet laundry on the line and glanced toward the house.
That area I am talking about is just about where the first 3 holly bushes on the left are now.
I had a few packets of flower seeds my mom had brought over. I mark off a two foot plot for each of the three girls and told them they could each have a little flower bed. We worked the rest of the day tearing up sod. My hands were bleeding from the effort. And when we were done, the dirt left behind was the hardest clay I'd ever encountered, good for just about nothing. We put the seeds in anyway and just a few flowers grew that summer. We did end up with some sunflowers as tall as the windows in Emma's little plot. That six foot by two foot plot of earth should have turned me off to gardening forever, but I am determined. And it led to this.
And how grateful I am. That little plot was just a little less than our whole front yard at the town house we rented for seven years while we prayed and searched for land to buy.
And this is the hydrangea my dear husband gave me for Mother's Day a few years ago. It has grown to be quite large but does not bloom. Yet, each year it gets bigger and bigger reminding me of how my family and our love for each other grows exponentially each year.
Last year, I got this copper bird bath. But the birds never bathed in it. This year I decided to put a plant in it.
Behind the house, where the pool is now, there used to be an asphalt pad upon which sat our heat pump. The oldest noisiest heat pump there could ever be. And it did very little heating or cooling of our home. How can I not be grateful for the bonus two years ago that provided us with a brand new heat pump with all new duct work in preparation for our second floor addition to make sure we have room for our growing family?
And the bonus was that moving the heat pump to a more energy efficient location on the side of the house provided a beautiful little spot for a hide away where the kids swim while we relax on hot summer days. We added the fence to keep little boys from climbing in the pool unsupervised. The garden and stepping stones wrap their way around the fence with holly, peony, azalea and lilies to the second gate on the other side.
This summer we had a concrete pad poured under the pool and Allen is almost finished putting down pavers for the patio.
This is an area where God certainly felt I needed to be when he led me away from my study.
I have been grumbling and complaining for weeks and weeks now, that my husband is spending his whole day off working on house projects. When what I really want is for him to spend it with me. It took me but a few minutes here, admiring his handy work, before I knew that God was pointed how what a blessing I have in the work my dear husband does.
In fact, what a blessing I have in what he is able to do. I hear many a tale of husbands who can't do things around the house. Or worse, I hear the woes of women whose husbands spend their free time on their hobbies or with their buddies.
In our married life, I can not think of a time that my husband has given time to his own interests. And yet, I had the nerve to complain that he was working for us! Sometimes, God uses distraction to teach us a lesson. Eh?
These planters are on the wall next to the walk out steps down into the basement…just beside the gate to the pool. My dear husband had this idea this year. And I had so much fun implanting it. Can you see the kids hand prints in the wall under the big pots? Di, I used lantana in these pots because it makes me think of you and Ben and your garden in Italy. And do you see the sand color we painted the black cinder block? What do you think? I thought it gave it a very Mediterranean feel.
And as you walk out the gate on the other side of the pool, you are greeted by the paver steps and grape arbor my dear husband put up this spring. At night when the steps are all lit up, it feels like being in that famous photograph, I believe it was in Paris, of the steps and lamp posts. Do you know what I mean?
He planted one purple grape and one green. There is actually one bunch of grapes on the tiny vine.
To the left of the steps is our square foot vegetable garden.
Again, this was a labor of love, in which we are still growing and learning. It came about after several attempts of working and sweating it out in a traditional garden only to lose it the first year to drought. The second year to flooding. And the third and final year to deer and rabbit.
When I look back at our early attempts at gardening, I can't help but remember how we can work of our own merit but it is our Father who gives the increase. It doesn't matter how well we do things, without Him we will get no where.
And when we do give it up to Him how easy things are and how great is our yield. Just like this garden. When we found the right way to garden it takes us little to no effort and we get an amazing yield. Last year that little garden fed our family, and many others, all summer long and put up 500 quarts of food for the winter.
Isn't that kind of like our salvation? We can do works and works and more works…but they won't get us to heaven. But do it God's way and it takes no work on our part to yield great eternal rewards.
Many people think that's too easy to work. But, when people look at my garden they don't believe it either. Yet, those who have followed with their own square foot gardens, find out how simple it really is.
Yeah, God needed to distract me and lead me here to remind me that I needn't be discouraged that I am not seeing the results of my work. If I share His truth, I am doing my part and He will do what he promises and reap the harvest in His time.
And over by the shed, I am warmed by the memory of the day my dear husband, father, father-in-law, brother and nephew constructed this sturdy shelter. With love for our soon to be born baby. They built it so we could empty the garage to add a new nursery. It was such a blessing to see the men I love working together as they laughed. I don't think there is another time when they have all been together like that again.
Here is the hydrangea my husband planted for me last summer. And how surprised was I to at last see beautiful blooms on one of my hydrangeas.
There was just one cluster. But it was all I needed to remember to be patient and wait on the Lord.
This spring, Brianna and Allen added a new box to our square foot garden next to the shed. In time there will be many boxes that will make up our berry patch. But for now, this one box holds our two blueberry bushes with a few berries just starting to ripen.
Saturday when we inspected the bushes, there were quite a few berries missing. Likely the work of a hungry bird. It could be frustrating, but instead it reminded me how God provides for the birds and how he is looking after and providing for my Art in his absence.
As I continue around the yard, I come to the orchard, Allen and the boys planted this March. Peach, apricot, cherry, plum, pear and nectarine trees joined the apple trees we planted a few years ago.
And under this very special tree is
Flo's grave
. And how that makes me grateful for God's littlest creatures. And the children who love them. And the God who answers prayers on their behalf.
And in the front yard is the little cherry tree graced by my mother-in-laws peonies. Which remind me of how my mother in law and I have grown to be friends over the years. When we first married, she didn't like me at all. In fact she didn't speak to us until after Aedan was born. This reminds me of how I was once an enemy of God. And how, when I sought Him, he gave me forgiveness, welcomed me into His family and blesses me daily as I walk with Him.
Allen and the boys planted this tree to replace a huge maple that we had to cut down due to disease. We chose it to pair with the beautiful cherry the former owner had planted. Under this tree we have had many a splendid tea party and times together of prayer, singing, picnicking, reading and just hanging out and sharing our thoughts.
Which takes us to the red bud tree. Our anchor. This was the first landscaping we ever did, after ripping out the bushes growing over the gutters. I read in a book that the first place to start was an anchor tree on the corner of the house. We chose a red bud for his beautiful lines and colorful leaves. The buds in the spring are breathtaking. Neighbors have told me they wait for that tree to bloom each spring.
When we planted it, I remember our family sitting around it together, asking the Lord's blessing on our family and our home as we look to Him to anchor it. And He has answered that prayer more times than I can count.
We sang, "My Anchor Holds" and I can scarcely pass by that tree without humming that song. Three times strong winds have ripped that tree in half. We have never had the heart to cut it down. And every spring it has come back stronger than before. A reminder to me of God's restorative power in our lives.
Our family has faced many trials in our time since we moved here. A court battle that could have taken away our daughter. A sick child we didn't think would live. Difficult pregnancies. A layoff. Falling out with extended family. And yet each and every time God has restored us stronger than before.
A little farther around the stepping stone path, I see my herb garden. It is in a growing year and not looking it's best. Two summers ago, when I was expecting Elisabeth, I was not able to tend it like I normally would. I had to rip out and replace several plants that had become too woody. But, they are coming up tender little plants, but full of beautiful flowers. And just enough, to use in my kitchen.
A bit like the little children I am raising up. They are so young and tender yet, but still they have so much they do to bless me daily and to serve our God.
And check out the bee balm! Isn't is enormous? The path winds between it and my butterfly bush with amazing smelling blooms. Other summers there have easily been a hundred butterflies on it at once. This year it has no butterflies at all. The rain? The lack of sun? The cooler weather?
Who knows? Just as only my Saviour knows where tomorrow will bring me, only He knows where the butterflies are this summer.
Around the bend, we are back at the Iris bed. I don't know how long I was out there that morning. But it is a distraction I gladly welcome. My Father knew, there was more for me to learn in a little stroll through the gardens than I could have found sitting there on my deck.
Perhaps, when I tuck Aedan in tonight, I need to tell him that sometimes we hear God speak to us when we get up from our usual place and start moving along the path. And perhaps, the next time a child gets sidetracked, I will remember that perhaps, maybe just maybe, God might be using that distraction to lead them to a place where they need to be for a plan that is greater than what I had in mind.
Or maybe not.