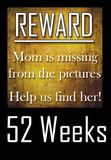 I've accepted
Carin's
challenge, as a Mom, to get back into the picture. The idea is that once a week you take a picture of yourself with one or more of your children. It's that simple. If you'd like you can post your picture on your blog. You can let me know you posted so I can check out your pics. You can check out my previous weeks or Click the button to add your name to the Mr. Linky. So, have fun!
This first picture is of me and my dad in Purcerville, Virginia on July 4th. It is not a great picture but I liked it because there aren't many of me and my dad and I thought he looked really cute. He and my mom were wearing these matching flag polos, which I thought was adorable and oh, so patriotic and I intended to get a snapshot of them together, but I let my camera battery die.
I keep saying I am going to order a back up but I keep forgetting. Maybe one of you will remind me sometime??? That is my one complaint with this camera. The battery lasts forever. Why is that a problem you ask? Well, it lasts so long that I never think to charge it and then it ends up running out every time we have a big event where I want to take lots of pictures!
We did something a little different for the holiday this year. We often have friends in or we go to a local park where they have a huge celebration or we gather with some of our church family for an outreach. But this year, our dear friends asked us to join them. Their daughter, Grace, who is Emma's best friend (you might remember her from
week 6
of the challenge, was playing violin in the International Orchestra. We have never been able to attend one of her performances before, so it was a real blessing to be there.
If you really want to appreciate your freedom as a country and all it affords us, spend this holiday surrounded by youth from countries without such freedom. It is amazing to see the excitement through their eyes and realize how much we take for granted.
After the concert, we had a few hours to hang out and play games and visit with our friends and family before the fireworks. The weather was perfect. Usually, the fourth of July is unbearably hot and humid or rainy. It is not uncommon for it to be hot, humid and raining. But not last Saturday. The temperature was perfect. It was so delightful to be outdoors and there was not a drop of rain in sight. Brianna took this picture of me at the concert.
Last Thursday, which is my errand day, Samuel got it in his head that he and I would get up before everyone else and have a date, baking lemon cookies. Which is kind of funny because he is usually the very last person out of bed each morning. Sometimes, we have to drag him out of bed to eat breakfast.
Well, he got up first and was so super excited. But, just as we headed to the kitchen, someone else came in. Samuel's little shoulders drooped and he said, "Ohhhh, but Mama and I were going to make cookies!" I reassured him we could make cookies even if the other kids were up. So, this would be us making lemon drop cookies. We added crystallized ginger, sliced almonds and coconut to them. He knows how to use the kitchen aid but decided he wanted to learn to whip the eggs up by hand. He did rather well, for his first try. They were absolutely
Delicious!
Brianna was babysitting while I ran my errands last week. When I got home a little after lunch time, the youngers were down for their naps. But there was a gallon sized vinegar jug sitting in the driveway with a very suspicious looking substance in it. I saw the bottle as I was walking in the house but my hands were full so I kept on going and quickly forgot about it.
When Aedan got up from his nap I was in the middle of all that I had to do for the various picnics we had for the fourth of July and at church on Sunday. He came in carrying that jug and was talking at his usual mile a minute. I must admit, I was only listening to about every 10th word.
When I heard the word explosion, though, he got my full attention. Aedan is in charge of gathering and sorting the recycling each morning. He takes his job very seriously and does an excellent job. But, you would be amazed at how much of it becomes special treasures. And not just for him, he brings things to all members of the family at different times. But that is another story.
This particular day, while he was sorting the recycling he granted Samuel the privilege of being his special helper. They happened upon this empty vinegar jug and decided they wanted to try a little experiment.
How they arrived at the formula, it is unlikely I will ever know. But their goal was to get an explosion. I am sure their quest was fueled by the fireworks they set off with their Pa on Father's Day the week before.
First, they mixed Dawn and dishwasher powder. That didn't do anything to excite them.
Next, they decided they needed an ignitor. Not a bad conclusion for a 4 and 6 year old. Next, they shared with me that they asked Brianna to put it in the oven for them.
They urged her and tried to reason with her by explaining, they had tried to put it in the toaster oven and it wouldn't fit. And they aren't allowed to use the oven by themselves. She explained that the bottle would melt in the oven and create a huge mess and Mama wouldn't like that very much.
The problem with home schooled kids, is they never give up! We spend all this time teaching them to think for themselves and problem solve and making them find answers for themselves...and then they have the nerve to turn around and
DO IT!
So, Aedan said, could she pour some gasoline in it and light a match? Brianna said that definitely wouldn't be a good idea because it would catch fire and burn the house down and make a
BIG
mess.
Ever the thinker and always having an answer, Aedan said, "That's OK, we can do it in the driveway." And that is when Brianna declared nap time.
And this is about when I came in. And suggested we make an explosion with some baking soda and vinegar and a little food coloring for special effects.
This would be us hanging over the kitchen sink making an explosion.
Brianna said she doesn't know where boys get these things from. It certainly isn't their big sisters.
But, I am here to tell you we didn't have any boys in the house when the toaster caught fire.