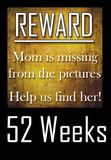 I've accepted Carin's challenge, as a Mom, to get back into the picture. The idea is that once a week you take a picture of yourself with one or more of your children. It's that simple. If you'd like you can post your picture on your blog. You can let me know you posted so I can check out your pics. You can check out my previous weeks or Click the button to add your name to the Mr. Linky. So, have fun!
Most of my pictures for this week are from Camp except for this first one. I would normally delete unflattering pictures taken of me from the backside. Why are there so many of those??? But this one I really liked, because the moment was sweet. For one thing, the day it was taken was a very bad day. I don't usually have very bad days but this one was plagued with a migraine that crescendoed into misery that finally sent me to bed and then proceeded to keep me awake most of the night. When I have a headache like that, I find it very difficult to focus and act in the way I would like to, indeed the way I have been commanded to. Every little thing gets way blown out of proportion.
And that lovely migraine and the rebound one I got last night is the reason I am late getting most 52 week post up. I was lamenting not getting my pictures up and my dear husband said, "We should have taken a picture of you in bed with a migraine since that is why you didn't get it done and that is what took up a large portion of the week." Good point honey.
But this was one of the few good moments on Tuesday. We had picked almost 12 pounds of green beans from the garden and were having fun snapping them to can. That was the third picking this year, which has yielded us somewhere around 30 or 40 pounds, if I had to guess. We ate the entire first batch raw before we even got a chance to fix a meal of them. The second picking were delicious sauteed in a little butter and the leftovers served cold for lunch the next day. And this last bunch I canned up about 14 quarts.

And on with the camp pictures. This is me teaching Aedan how to find the perfect spot to toast your marshmallow so it gets golden brown and puffed without turning black.
And helping Sam make Scuffy the tugboat. He LOVES this little story from way back when. For Christmas he asked for just one thing. A red painted tugboat like Scuffy. But there were none to be found. I suggested my dear husband make him one, but time was short and so Scuffy was forgotten. I was thrilled when we found these little kids on the Internet for just about next to nothing. As soon as Sam saw it he said it was just like Scuffy.
And Allen and I enjoying the camp fire. The weather was delightful. Not too hot. Not too cold. Not humid at all. And just a little bit of rain the afternoon of our last day. I could sit by a campfire or wood stove or fire place forever and just stare, I think. It is so hard for me to tear myself away.
We had lessons on fire safety and each of the little boys had to learn to light a match and a candle without burning their fingers. Then they each got to take a turn making the campfire. At first they were really nervous but once they got the hang of it they were thrilled to have such a big responsibility. We taught them how to water proof matches by coating them with candle wax, too.
On the last day the kids divided into red and blues and each team made a float and put on a parade for us. They were having so much fun that Allen and I decided to get Elisabeth and get in on the act. We went with the
St. Kittian
theme for lack of creativity.