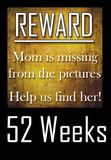 I've accepted
Carin's
challenge, as a Mom, to get back into the picture. The idea is that once a week you take a picture of yourself with one or more of your children. It's that simple. If you'd like you can post your picture on your blog. You can let me know you posted so I can check out your pics. You can check out my previous weeks or Click the button to add your name to the Mr. Linky. So, have fun!
This past weekend we were honored with a visit from a dear friend of ours who lives on the other side of the country. We three have known each other since I was just 18 and the fellows were 20.
The three of us met when Tony lived in the apartment building next door to mine. We have some great stories to tell from our years together and they start with our introduction. We had lived next door to each other for quite some time. Coming and going in the same parking lot. Shopping in the same grocery store. Frequenting the same restaurants. Our balconies faced each other. But we never met until a mutual friend was sitting in my living room one day. He looked up and happened to see Tony crossing the parking lot. Paul was so excited that he took off running to the door and shouted from the Balcony to get Tony's attention.
The rest is history. Many people have come and gone in our lives as situations change but not so for this buddy. Tony has traveled across the country and around the world in his military career. And yet, though our lives have kept many miles between us, our little trio has seen each other through marriage, divorce, sickness, health, child rearing, heartache and joyful times alike.
You know you have a true friend when you can go three years between visits and it seems like yesterday since you were together. Or even when you can go three years between visits and when you are together again, it is like you were never apart at all. If you have been so blessed to have such a friend, you know just what I mean.
Tony has earned the name Uncle from many experiences babysitting our older girls, feeding our toddlers and reading to our preschoolers. He has diaper changed, help potty train and even at times shared a bit of correction when needed.
As I said, we have had many escapades together, not the least being driving cross country in the back of a pickup when our friend graduated from Boot Camp or some serious fun at our wedding. And those of you who were there can really appreciate that!
And Thursday, the day before our dear friend arrived, we were blessed to get word that he and his bride, Carrie, will be welcoming their first child next year. Can you imagine? All these years I wait for a little niece or nephew and now I will be blessed with 2 in one year?
We talked non stop in between Tony's class reunion (the reason for his visit) and time visiting his family. In fact, we talked so much that we got very little sleep. (For which I am still paying the price). But I wouldn't have it any other way. Friends like that are hard to come by and we are blessed to have made a few over the years. He has truly been a brother to us. In fact we are closer to him than to our own real life, flesh and blood brothers.
Together we have celebrated birthdays, Thanksgiving and Christmas. We have played board games and card games. We have visited cities, museums, restaraunts and even a pumpkin patch. We have shared a cup of coffee, a ride here or there, music, videos and an ear. We have cried, laughed, rejoiced and mourned together. We have taught each other how to brew espresso and make a turkey.
Tony is also, one of the few people who is not afraid to tell me what he really thinks. That is probably because he is a good foot taller than me and had a few pounds to back it up. Like when my gray hairs were starting to take over my head. Any of our other friends would have been afraid of insulting me. But not our Tony. He jumped in with both feet in an effort to save me the disgrace. Actually, I think he even pulled it out for me.
Over the years we have all three gotten a little rounder and a little older. But that's OK. We worked it all out. We agreed to grow and age at the same rate so that none of us will make the others look bad. And since I refuse to go gray for another 30 years or so, that means Allen and Tony are hunting for a good hair stylist.
I will end with some fun vintage picture of us together. These are the real deal. Film. They scanned pretty fuzzy but you get the idea!
At our wedding. We were all a lot thinner back then!
Saturday morning we were talking about my
100th things about me post
. We told our guest that he had to come up with 10 things to add before he went to bed. We were only half joking but as our day got going I quickly forgot about it.
In the evening our visitor headed out to his reunion. I finished my post and headed to bed.
But Tony didn't forget. While sifting through my email Monday morning I found his list of ten things. I told him I would publish it with my post about his visit since he had taken the time to stay up late to type it up.
One thing that struck me about his list is that we have known each other for so long, that he is one of the very few people who still call me by this childhood nickname. Of course, we are some of the few people who still call him Tony. So it all works out, eh?
Kathy is a generous woman, almost to a fault
Kathy is the rare sort of woman who can combine deep spirituality with "Keeping it real"
Kathy was a very beautiful girl when I first met her
Kathy is an even more beautiful woman twenty years later
Kathy has worked hard for everything that she has, and is a better person because of that

Kathy is married to Allen who, in his own quiet way, is a pretty amazing individual
Kathy, by dint of being pretty amazing herself, is fully deserving of being married to Allen. That is a very significant statement.

Kathy has endured much hardship throughout the years, and has come out on top due to her deep faith and perseverance
Kathy has raised a wonderful family
Kathy inspires love in those who know her