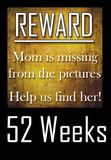 I've accepted
Carin's
challenge, as a Mom, to get back into the picture. The idea is that once a week you take a picture of yourself with one or more of your children. It's that simple. If you'd like you can post your picture on your blog. You can let me know you posted so I can check out your pics. You can check out my previous weeks or Click the button to add your name to the Mr. Linky. So, have fun!
This is me reading to the kids while sitting on top of the tank car of the train my husband built in the backyard. The train is a whole other post for some other day.
Last week the kids volunteered to do the church cleaning for me while I went to the allergy doctor and drove Brianna to the orthodontist. After ward, to reward them, I took the children to Border's to claim their books for completing the summer reading program. Aedan chose "James and the Giant Peach." I was a little sorry that was his pick as I am not really impressed by Raoul Dahl's writing. And I try to steer away from books with negative attitudes or books that involve magic. This story is full of both.
My children are very good about taking no for an answer and are quick to accept our explanations and seek our guidance for what we consider good reading material or videos to view for that matter. I could have easily said no and that would have been the end of it. But, Kaitlin read him the back of all the books he had to choose from. That is all the ones we don't already own. And, he gave it serious thought before he made his pick. I decided it would be a good opportunity to reinforce why we know magic, even if it appears to be used for good, is not from God. I accepted the challenge to show them what was wrong with the poor attitudes and the feel sorry for me attitude displayed by James in the beginning of the book and his various companions throughout.
With that said. He got the book. We went home and the kids took their naps. Aedan was the first one up that afternoon and sought me out in the hammock to read his new book to him. We got the necessary discussion out of the way and settled in for the long haul.
And I was surprised. I actually enjoyed it. As we made it through a few more chapters the other kids joined in and they were giggling heartily. As was I. We had so much fun singing the songs about Aunt Sponge and Aunt Spiker that the kids insisted I sing them over and over.
In fact, when we went to the library they checked out the movie. And watched it on our date night. And they liked it. Go figure. The moral of the story is...sometimes if we give it a try we might like the story. Or something like that.
This next picture is me attempting to show the kids how to start a fire using a magnifying glass. We have been trying for weeks. First we had too many overcast days. Then we couldn't find the magnifying glass. We found it again and gave it a try but the sun kept going behind the clouds and we finally gave up.
Did you all do that when you were a kid? My husband never had and I can not believe that since he was a boy scout. Seems like a pretty basic deal to me. Well, I was just the sister of a boy scout and I learned how to do it anyway.
This is my favorite picture for this week. Elisabeth finally got in the pool with me. And loved it! Until a short while ago she was terrified of the water and would cry through every bath. I count it a great accomplishment that she is now a bathing beauty!