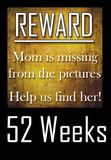 I've accepted
Carin's
challenge, as a Mom, to get back into the picture. The idea is that once a week you take a picture of yourself with one or more of your children. It's that simple. If you'd like you can post your picture on your blog. You can let me know you posted so I can check out your pics. You can
check out my previous weeks
or Click the button to add your name to the Mr. Linky. So, have fun!
This first picture was at my parent-in-laws house last Thursday. We were picking the garden out when I came across a large bug. I am not bothered by bugs at all, unlike some of my family members (you know who you are) but I was trying to figure out if it was friend or foe before I killed him. It was a hot and humid day and I got out of the pool just before we left. Can you tell by my lovely hair do?
You might notice how tall that tomato plant is. I am not a giant but even next to my 5 foot 2 self that was a very tall plant. I suspect it is because of all the rain this year. We have a cherry tomato plant in our garden that is well over six feet tall! They are delicious, too. If you get them before they rot. Because of all the rain, we have a lot of them rotting from the inside out.
And for those of you who were wondering
where we went last weekend.
Here is me and my darling husband at the Phillies Stadium. No, we did not see a baseball game. As a matter of fact we don't enjoy baseball near as much as we do football. We go to one game a year with the family and have a great time, but that is enough for us.
Heather Kay
, correctly guessed that our first date, or maybe the second...a very early one anyway, was to a Billy Joel concert in Washington DC at the Cap Center. Before the concert, my sweetheart sent me a bouquet of yellow roses with a card on which he quoted part of one of our favorite songs. And on my wedding band is inscribed the title of another song, "2000 years" as a promise that as long as the Lord gives us we have committed to give to each other, no matter what.
Oh, and by the way, I knew that the National Anthem would throw everyone off, but I couldn't resist. One of his band members, from Australia, had just gotten his citizenship, so we all stood and sang the National Anthem.
And this was me playing with the timer on my camera Sunday morning. We had a wild thunderstorm that lasted about an hour. It was super neat to watch out of our hotel window because we were so high up. The lightening seemed like it was right in front of us. Which of course it wasn't. We sat right up until we had to check out just watching the fun.