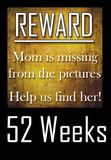 I've accepted
Carin's
challenge, as a Mom, to get back into the picture. The idea is that once a week you take a picture of yourself with one or more of your children. It's that simple. If you'd like you can post your picture on your blog. You can let me know you posted so I can check out your pics. You can
check out my previous weeks
or Click the button to add your name to the Mr.
Linky
. So, have fun!
My pictures for this week are from our day trip to Roanoke with
JenT
and her family. This one is in the automobile room of the Virginia Transportation museum. This is some kind of antique wagon that looks a lot like the predecessor to my Suburban. It was all wood and had no seats, just a rug in the back. One of my kids actually asked me where the seat belts were. Those were the days!
And this is Samuel and I on the playground. All the equipment was made of or made to look like vintage vehicles. Samuel was "driving" me along on this antique car when he told me that I had to get out and crank it so it would start. I told him that was man's work and I wasn't going anywhere.
And this is some fun with Elisabeth who loves to be hung upside down once in a while.
And this is a picture that one of the docents was kind enough to snap of all twenty of us together. Yes, that is really just one family. Hope, as I was looking back on this, it was so fun to think that this was your family every time you went out! If you all had half as much fun together as we did, it is no wonder you have such fond memories of growing up.
Seriously, you moms need to hop on board here. This weekly challenge has been such a blessing to me. And a lot of fun for my family, too! No one cares what you look like. No one cares what you are doing. When you are having fun and taking pictures, just hand the camera over for a minute. You won't be sorry!