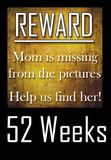 I've accepted
Carin's
challenge, as a Mom, to get back into the picture. The idea is that once a week you take a picture of yourself with one or more of your children. It's that simple. If you'd like you can post your picture on your blog. You can let me know you posted so I can check out your pics. You can
check out my previous weeks
or Click the button to add your name to the Mr. Linky. So, have fun!
Sunday afternoon, we met my dad at a local historical house where they were hosting an ice cream social. We went some years ago and had such a memorable time that when we heard they were doing it again we jumped at the opportunity to go. Even though it was very warm, we stayed cool under the trees. And of course there was the ice cream to help.
Because it is a historic location they had colonial games set up for the kids. And lots of craft options. There were four large tables covered with all sorts of fabric, paper, wall paper, wood scraps, markers, glue, and even toilet paper rolls for the children to stretch their imagination. While dad and Allen wandered, I helped the boys with their projects. Sam made a top and a boat. We colored the top his favorite color, blue green.
While we were working on our little creations, my stomach turned at the ugly display from a little girl Emma's age. She was going on and on about how much she hated her brother. He was 15 and from what I saw, was perfectly nice. Either way, it saddened me to see a child at nine with such venom in her heart. And toward someone she has spent her life with and will spend the rest of her years with. I couldn't help but wonder what could make someone hate so much. And think how heartbreaking it must have been for her mother who was standing there hearing it. I would be devastated if I ever heard my little Emma speak like that.
Anyway, when Brianna called Aedan to look at the camera, he smiled so very pretty but I think he missed the camera. He made a boat and a picture frame.
And this last one was a little treat. There was an antique car show set up for the day. We toured them for a little while but I was just as happy to stay in the shade. I did have to check out this Mustang. Not only was it my favorite car, but it was a limited edition 1968 shade of pink. Which happens to be my favorite color. The lady was kind enough to let me climb inside and take a look. Isn't it a beauty?