A big thank you to Brianna for redoing my page to fit the theme for our upcoming country fair! If you haven't read about it yet you can
click here
. Get your posts ready, I hope to see you all there.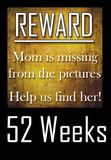 I've accepted
Carin's
challenge, as a Mom, to get back into the picture. The idea is that once a week you take a picture of yourself with one or more of your children. It's that simple. If you'd like you can post your picture on your blog. You can let me know you posted so I can check out your pics. You can
check out my previous weeks
or Click the button to add your name to the Mr. Linky. So, have fun!
This week we have a lot of, "I wasn't paying any attention to what was going on around me" pictures. This first was when I was visiting with my parents by the pool. When I was looking through the camera card I found about 20 similar ones of me and a bunch of other family members that night. My best guess is that one of the youngers got hold of the camera. They have been trying out their skills this summer.
This is a rare picture of me without makeup. I have a great deal of scarring on my face and long ago made a habit of doing my face as soon as I get out of bed. I am not sure why I didn't that day. But, Elisabeth didn't mind and gave me some loving anyway!
And here I am blogging. And I don't know about you but I am usually completely out of touch with everything once I enter blog world. That is why I try to keep it for before the family gets up, during nap and after they go to bed.
Which, brings me to the fact that classes resumed Monday night and I have a boat load of reading and studying to do now. I will be leaving for vacation in 21 days and when I return on October 7th home school will be starting. There is a bunch of travel going on between then and Thanksgiving. So, I may not be around your blogs as much as I usually am. But don't forget, I love you anyway.
And to my dear Canuck...if you are out there. I haven't seen you in a long time... talk to me girlie.
Don't forget to click on the button to learn all about the Country Fair coming September 14th! It won't be any fun without you there.