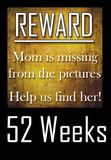 I've accepted
Carin's
challenge, as a Mom, to get back into the picture. The idea is that once a week you take a picture of yourself with one or more of your children. It's that simple. If you'd like you can post your picture on your blog. You can let me know you posted so I can check out your pics. You can
check out my previous weeks
or Click the button to add your name to the Mr. Linky. So, have fun!
This week there seem to be some profile views. I figure you are probably getting sick of looking at my face by now anyway!
In this first one we are cleaning "The King" in preparation for spending a lot of time in there on vacation. While we were at it we gave "Doc" and Allen's car a good vacuum and shampoo, too. I showed Samuel how to buff out wax.
And this was Monday when Kaitlin and I spent all day trying to perfect a scallop detail on her sewing project. We designed it ourselves so don't have an actual pattern to work with. It took some time but we had fun trying and I think she was happy with the results.
And this is a picture that Allen snuck in while Elisabeth and I were weeding the gardens Tuesday morning.
Don't forget to click the button below to learn all about the country fair coming to Art's Chili Pepper September 14th!