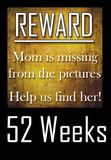 I've accepted
Carin's
challenge, as a Mom, to get back into the picture. The idea is that once a week you take a picture of yourself with one or more of your children. It's that simple. If you'd like you can post your picture on your blog. You can let me know you posted so I can check out your pics. You can
check out my previous weeks
or Click the button to add your name to the Mr. Linky. So, have fun!
Friday morning, I was finishing my hair and makeup when Kaitlin came to the bathroom to ask me a sewing question. She stopped in the middle of her question and said, "You look pretty, Mama. May I take your picture?" I explained what she needed to do with her sewing and she left saying that she would be back with the camera.
I looked in the mirror and thought to myself, "I do look pretty today." But it was not really that I thought I looked different or better than normal so much as I felt different. Pretty.
Do you ever feel that way? I don't mean in a vain or self centered way, focusing on your great hair or fabulous skin. But a special feminine, gentle and warm feeling that comes over you regardless of your clothes or makeup.
I don't often think of myself as particularly attractive. Or unattractive for that matter. I don't often give it much thought.
And when I do, my cycle is coming and I feel bloated and fat. Or my eczema is acting up and my face is red and blotchy. Or I did not do my hair and it is frizzy and unkempt. I have been cleaning and my clothes are mussed.
But once in a awhile, I look in the mirror at the end of the day and wonder who the person looking back at me is. Or I see a photo and think, "I look nice in that shot."
What is the difference? Really I could go in three directions here. Because there are three definite things that affect my attitude in this area of my appearance. My spiritual walk, my relationships, and my attention to my physical appearance. Each so different and yet each has the same affect.
Do you once in a while look in the mirror and smile at the beautiful person looking back at you? If not maybe it is time for a little makeover.
The easiest is your physical appearance. I read in an antique book years ago, before I was even married, to make sure to put on your makeup and do your hair each morning first off. That way when your husband leaves for the office and you kiss him goodbye he will have a beautiful vision of you all day while he is away. No worry about the secretary winning his heart, because he will be dreaming of you.
Now, I certainly do not believe that your appearance is the secret to a happy marriage. There are so many important principles to consider. It is easy to become so busy in your job as mother and home maker that you we can allow ourselves to become sloppy and careless in our appearance. If you don't find your physical appearance attractive anymore, then perhaps it is time to try a new hair do, a different shade of makeup or get out of those sweats and put on a dress for a change.
I assure you as you go about dusting, washing dishes and even scrubbing toilets, you will feel more glamorous. And you will be rewarded, with a delightful response from your dear husband when he returns from work.
You really get double rewarded. Feeling confident in your appearance makes your whole outlook brighter. You will speak gentler and be more cheerful. Plus, when your husband responds positively, you will feel even better about yourself. Which will make you feel lighter, prettier and more positive. It is a never ending good circle once you take that first step.
Now if you have made changes to your appearance and still find you are dragging, perhaps it is time for a change of attitude. Perhaps we need to learn to accept ourselves as we are. The Lord thinks we are beautiful, we need to also. If we have done the best we can, and we are not accepting of ourselves, than we are ungrateful of the gift the Lord has given us and dare I say, ungrateful of His very creation.
Or perhaps we need to change our attitude in another way. For me, this feeling of being divine, it has little to nothing to do with my physical appearance on any particular occasion. In fact it has much more to do with the occasion itself. I notice it when I am sweet fellowship with my family. When I have had a special time with one of the children and our hearts have spoken to one another. As I receive a grateful squeeze I could not feel more striking if I was Cinderella herself.
Or when I have gone out of my way to do a little something for my dear husband and he looks at me with that special smile that is only for me. Or gives me a little peck to show his thankfulness. My, how alluring I feel in that moment, when I realize that he loves me unconditionally and with his whole heart, not because of the great wife I am (you would not believe how I fall short here) but because I am. If you don't feel that kind of beautiful once in a while, pray for your marriage.
Or at times when I don't feel so pretty it is because I need to refocus my life. When my attentions have been turned to the Lord, when I have been walking with Him, as He intended, when I have shared the word with a searching heart, when I have had a time of deep prayer or fellowship in His word.
Those are times when I feel appealing. When my heart is where it needs to be. At those times when I am fully aware of the love of my God, I could not feel more attractive. I feel nothing short of enchanting, when I reflect on the sacrifice He made because He thought I was worth it.
So, bottom line. It doesn't happen way too often, not as much as it should. But when once in a while, I look in the mirror and my relationships are in order, I am walking peacefully beside the Lord and I have given a little extra attention to my physical appearance. And at those times I can say, "I feel pretty."
P.S. I have to add this in because when my husband said it...even though, I knew what he meant and that he was giving me a compliment, I had to give him a rough time of it... because it was too funny to pass up. And I told him he was in hot water because I was going to blog about it. And it just suited this topic way too well.
I mentioned that he travels a lot. He is out of town at least one day of a week. In order to cut down on his nights away he gets up very early and drives 3-6 hours or something silly like that and then meets with customers all day and makes the drive home. To reduce the number of times he has to do this he packs in as many meetings as possible. Which often makes for twenty hour days.
But last night he got home earlier than expected and was able to meet me for the last half hour of class. He looked at me and said, "You look kind of cute." Now you would think the smile I gave him would tell him, he had said enough and stop while you are ahead. But my husband, while not a sales guy, works with a lot of them. He always has to try to drive his point home.
So he bends over and whispers in my ear, "When I stare at my car all day, you really look good."
Yeah, I knew he meant the he missed me and he appreciates me more when he is away but there was no way I was letting him off easy after that! I teased him for the next half hour and was sure to tell the girls about it at breakfast today so they could tease him too. Ah, yepper. That is the kind of merciless people we are.