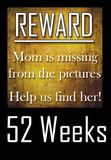 I've accepted
Carin's
challenge, as a Mom, to get back into the picture. The idea is that once a week you take a picture of yourself with one or more of your children. It's that simple. If you'd like you can post your picture on your blog. You can let me know you posted so I can check out your pics. You can
check out my previous weeks
or Click the button to add your name to the Mr. Linky. So, have fun!
Guess what? I am not here. No, I am on vacation! Woo Hoo! Which means, I can't post my pictures for this week. It may be cheating a little but instead I am posting pictures from this week one year ago. Ignore the dates. The camera was programed wrong for a little while there.
Guess what? We were on vacation. Here I will bless you with some of my favorite family photos from that trip.
This first one is with Miss Bab's fabulous at MGM Studios.
And this is with our year of a million dreams ears in front of Grauman's Chinese Theater I love winning stuff. Actually, when we were on the Great Movie Ride at MGM they gave the ears out to everyone. Which was a really cool picture. Except I couldn't put it up because I was taking the picture. So I wasn't in it.
And this was visiting Lightening McQueen and Mater in Radiator Springs. Which was the high point of the day for the boys. And the girls, too. Except for Elisabeth, who was asleep and could not have cared less.
At the front of Epcot. Which is our favorite of the parks four trips and counting.
And the firework show at Epcot one night. It rained. We were soaked by the time we got to our car. We had fun anyway.
And at lunch with the princess in Norway at Epcot Center. Don't ask me how to spell the name of the restaurant because it is not easy.
And that is, in a nutshell our first 7 days at Disney World 2008.