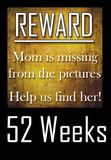 I've accepted
Carin's
challenge, as a Mom, to get back into the picture. The idea is that once a week you take a picture of yourself with one or more of your children. It's that simple. If you'd like you can post your picture on your blog. You can let me know you posted so I can check out your pics. You can
check out my previous weeks
or Click the button to add your name to the Mr.
Linky
. So, have fun!
Today is my dear real life friend and loyal reader, Dawn's birthday. And since I am on vacation anyway and won't be able to post my pictures for the 52 week challenge this week, I decided to go back into my archives and dig up some pictures of me and my buddy together. Unfortunately, the older ones are
pre
digital so we are limited in choices here. This first one is under our cherry tree on Easter Sunday.
I met Dawn in 1995, shortly before Brianna was born. I was stuck on bed rest, worried about my baby, lonely and bored to tears. If I had known then, what I know now... gee, I would have appreciated those days a lot more.
My sister, Diann, lived with Allen and I at the time and worked for the Navy at a local base. She and Dawn worked together. Dawn would often come home with Di to visit.
She always brought with her some of her delicious baked goods or home made jam. Which is how I got hooked on jam. And then she moved and I had to learn to make my own. Which is how I got hooked on canning. But this is not about that succulent strawberry preserves on a toasted English muffin loaded with home made butter. No, I digress.
Dawn, helped paint murals on the nursery walls for our daughter who was soon to arrive. She helped entertain her older sister who was sick of being indoors. By the time Brianna arrived that August, Dawn was a dear friend.
That Christmas as she presented Brianna with a doll she had made and Kaitlin with a dollhouse, she was quickly escalated to Auntie.
The following year she retired and moved back to her home in Ohio. Through the years we have kept up through letters, email, phone calls and visits that are not frequent enough.
Each time we meet again, it as if we were never apart. We have shed a few tears together over the years, as life is not always easy, but through that time we have had way more laughs. We encourage each other through diabetes, diet and exercise. Share tales of our baking, canning, and sewing.
I regularly tease Dawn about getting suckered into volunteering for everything... which she loves by the way. Sunday school, bell choir, President of the UM women, head of
VBS
, church dinners, fundraisers, cake walks... those are only a few of the projects she has going on in her church community. Did I mention her full time job? And on weekends she cooks for her dad. Helps her mom around the house. Teaches, instructs, and guides her niece. Gardens and works on remodeling her own home.
Doesn't it make you tired? It sure wears me out when we've had a visit on the phone. But still, there is a card for each birthday, an email when time permits and visits once a year or more.
With those visits, always comes a Rubbermaid filled with gifts that thrill the children. Often they are hand crafted. The children now look for Aunt Dawn's Rubbermaid and know there will be something special inside. Last Christmas it was pillows for the boys and a quilt for Elisabeth.
Do you feel inadequate yet? Well, don't. Because Dawn will be the first to stand in awe at our little efforts and tell us how amazing she thinks we are. This dear friend, has no idea what gifts she has, or how she touches so many lives in the way she chooses to share them.
Some people have hardship in their lives and turn into themselves and become hateful and bitter. Dawn has seen more than her share of sorrow. She chose to turn those moments into opportunities to serve each and every person she comes in contact with.
I am very excited that we will be able t spend a weekend with her this October. I must not forget her faithful and loyal companion, Buster, her pooch.
This was during a very hot spell, when I was pregnant with Ellie. Dawn, do you remember Allen in the mud?
In looking forward to this trip the girls asked Dawn what there was in Ohio. They tease her about it being the middle of no where. She swears it is a happening place. We have been keeping a list of things in Ohio since her visit in December. In honor of her birthday and our upcoming visit, I shall share it with you all we know about Ohio.
Places to visit


Football hall of fame (this is the only reason Allen is going... just kidding, Dawn)

Not so famous people we know from Ohio
Lisa and Keith Nichols
Aunt Joyce and Uncle Joe
my step mother, Judy Paternoster