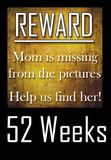 I've accepted
Carin's
challenge, as a Mom, to get back into the picture. The idea is that once a week you take a picture of yourself with one or more of your children. It's that simple. If you'd like you can post your picture on your blog. You can let me know you posted so I can check out your pics. You can
check out my previous weeks
or Click the button to add your name to the Mr. Linky. So, have fun!
I am still on vacation. So, I am posting pictures from this same week one year ago. When we were on vacation. Yes, we always take our vacation the same time each fall. Why? There is no one else there. That means it is quiet. We have a private beach to ourselves. We can rent our house for far less. It is still warm enough to enjoy the outdoors. The Atlantic is still warm enough to swim (around 90 degrees). And because we home school we don't have to worry about the kids missing out on their studies. No matter what else we do through out the year, we always spend at least two weeks here every fall. It is our home away from home and my favorite place to visit. Disney is fun. But that is not restful. Here is my idea of vacation.
I love to fish. Which if funny since my husband does not. My kids love it too. The house we rent has a private dock attached to it leading off the back river. After nap time we are all gathered there dangling our feet and trying to catch something. I caught the first fish last year. I know he was small, but size doesn't matter in the game. Just so long as you get something on the hook. We always throw them back anyway.
Later, during our stay , the kids and I were sitting on the dock fishing when I had to run in the house for a minute. I propped my line. A short time later there was a ton of shouting and carrying on. I ran to the balcony of our bedroom and looked over. The kids said there was a fish on my line. And that, my friends, is how I caught a fish from the bathroom.
This next picture was Brianna's work. Every year she takes pictures of Allen and I on the beach. That hat my husband is wearing is his favorite and he never goes far without it. Most of my swimsuits are very similar and usually dark colors, too. The pictures always end up looking the same. Each year I frame one and set it on my bureau. When we returned from vacation in 2007 I put the annual picture on my bureau and noticed it looked exactly like the one from the year before.
Last year, I made a point of buying a bright colored swim suit. When Brianna asked to take our picture, we teased her about doing the same background and the same post every year for as long as we have been vacationing in this spot. To prove us wrong she spent about a half hour taking a ton of pictures.
Here are some of the better ones.
In the evenings we like to go to a nearby park (well the Island is only 2 square miles, everything is nearby) and play tennis while the children play on the equipment, roller skate or ride bikes. Elisabeth got very sick at the beginning of this trip, lost a boat load of weight and was out of sorts even at the end of the month. She spent a lot of time just sitting on my lap and cuddling. This was one of those moments.
Next week, I will be back with my regularly scheduled post featuring a tribute for Emma Rose's 10th birthday!