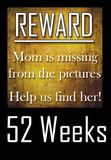 I've accepted
Carin's
challenge, as a Mom, to get back into the picture. The idea is that once a week you take a picture of yourself with one or more of your children. It's that simple. If you'd like you can post your picture on your blog. You can let me know you posted so I can check out your pics. You can
check out my previous weeks
or Click the button to add your name to the Mr.
Linky
. So, have fun!
Today is Emma Rose's tenth birthday. That is so strange to me. It seems like just yesterday she was my sweet little darling in my baby pack tap dancing across the kitchen floor during her colic days. Now she is practically a young lady. She has the sweetest heart of any person I have ever met. She loves to dote on her little brother and sister. Is quick to lend a hand. Loves to sing, laugh and dance. She takes care to dress and fix her hair in the most lady like manner. She is becoming a good cook and learning to sew. Sam says, "Oh, Emma is so nice." And that about sums it up.
For her birthday, I thought it would be fun to show a day in our life together.