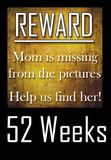 I've accepted
Carin's
challenge, as a Mom, to get back into the picture. The idea is that once a week you take a picture of yourself with one or more of your children. It's that simple. If you'd like you can post your picture on your blog. You can let me know you posted so I can check out your pics. You can
check out my previous weeks
or Click the button to add your name to the Mr.
Linky
. So, have fun!
Last Thursday, with Allen out of town and rain pouring down, we decided to spend the afternoon doing the much dreaded job of pulling the rubbermaids out of the attic. The kids tried each piece of clothing on. We passed things down, threw things out, filled bags for donating, cleaned out drawers and closets, mended, ironed, washed and made lists of what would be needed for the fall and winter seasons. The chaos this creates and the time it consumes always makes me want to fly the coop.
I have never actually done it though. Until now, that is. When my always-looking-for-a-good-bargain friend invited me to join her on Friday morning, Kaitlin offered to watch the boys and I left this...
to take a beautiful drive to Virginia. Brianna, Emma, Elisabeth and I stopped to admire my favorite silo...
on one of our local farms in full autumn swing. Including pumpkins painted all in a row.
Least you think we are strange farmers here, check out the farm across the street.
I finally met up with my friend, Katrina, here, at what has to be the world's largest rummage sale. The Loudon County Hospital Volunteers have run this sale annually for 71 years! It fills 6 barns and several out buildings on a local horse facility.
We only had time to visit three of the barns and the "French store." That didn't keep us from finding some incredible deals. Antique juice glasses for ten cents each. Tennis shoes, boots and a bag of boys' clothes for $7. An Anne Taylor jacket for $1.
I found this designer bag for Kaitlin as a little thank you with the tags still on it!
Brianna got this beautiful jacket for $1 and a bag of skirts and sweaters for $6!
I got this $400 dress for a little bit of nothing. Now all I need is a great place to wear it. Wouldn't it look beautiful with some silver slippers and silver jewelry?
Until next week, I will leave you with this thought...
"
A bargain is something you can't use at a price you can't resist." ~Franklin P. Jones