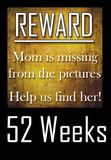 I've accepted
Carin's
challenge, as a Mom, to get back into the picture. The idea is that once a week you take a picture of yourself with one or more of your children. It's that simple. If you'd like you can post your picture on your blog. You can let me know you posted so I can check out your pics. You can
check out my previous weeks
or Click the button to add your name to the Mr.
Linky
. So, have fun!
Breakfast the morning Allen came home after my really
thankful week
, which just goes to prove all's well that ends well.
Working on lesson plans for school. Now that we are back to "real" life. Home school is in full swing. Here I am making lessons plans after dinner one evening.
Me teaching Nana how to make my world famous chicken and dumplings. (Which aren't really world famous, but look for the recipe in a post coming to a blog near you.)
And what do you suppose the entire family is staring at here? While we were eating dinner Allen remembered a comedy act with Tim Conway from when he was a boy. We found it on You tube and subjected our entire family to it after the dishes were done.
You can check it out here.

I am sure most of you know of my upcoming trip to Italy. Well, if you didn't you do now. Allen found an Italian book in the thrift shop. He surprised me with it one morning on vacation with instructions that before I left I must learn to say, "Please take me home to my hubby and seven children." Another important phrase he feels I should learn before I board the plane is, "No you are mistaken. I am not an American, I am from Canada."
Despite many years of studying French and Spanish, I have little to no ability to communicate in either. I have no illusions of mastering this beautiful language, but I am having fun. And I have learned some very important phrases like, "The pleasure is mine," and, "Does this come in gold?"
This is one of Brianna's specialties. I was leaning on the bureau doing my toe nails. When I pulled my leg up to the do the other foot she was very amused. I am not sure why she likes it so much but it is here at her request.
I feel sorry when repairman, workers or delivery men come to the house of home schoolers. When this Dell repairman came to fix my laptop this week, he was greeted by the entire family asking questions and watching every move he made as he operated on my "baby."