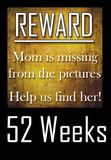 I've accepted
Carin's
challenge, as a Mom, to get back into the picture. The idea is that once a week you take a picture of yourself with one or more of your children. It's that simple. If you'd like you can post your picture on your blog. You can let me know you posted so I can check out your pics. You can
check out my previous weeks
or Click the button to add your name to the Mr.
Linky
. So, have fun!
So, here is the deal. Tomorrow (which will be today when you read this) my oldest baby is turning 18! That is shocking to me, as I still feel much like an 18 year old. I had all these things I wanted to write in this post... which I have been thinking about and planning and jotting notes down for... for about three months - ever since I realized her birthday fell on one of my regular 52 weeks. (Side note here: How funny is it that the last three big birthdays for our family have fallen on 52 weeks?)
The whole family has written down their blessings and things they admire so I could include them here. But you know the fact of the matter is, I am tired. I usually put all my posts up early in the week or over the weekend. And many circumstances prevented that. In fact, this is the first time in a VERY long time that I don't have posts cued up for at least a week in advance. I did try to allot time to do it here tonight even.
But do you know what? I am tired! I don't mean sleepy. I mean just plum exhausted with it all. Today, in addition to all the other stuff at home to do, I had about 20 errands to run. Not my favorite job to begin with. I do think that I do a really good job of keeping a good attitude about it, though. That is unless I have to go to Walmart. And then all bets are off.
And today, I even kept a good attitude about the grumpy sales person at Walmart who threw a broom across the store into the jewelry counter because she was frustrated at having to deal with a very patient mother who was trying to help her adult mentally handicapped child buy a watch.
You know what, though? Every single person I encountered today was like that. Not throwing brooms, but in a foul mood and irritated at having to do their job. Yet, I made it home with my good spirits, with the help of Starbucks and Kaitlin.
Then a very unpleasant lady came to my door. And I received two very unpleasant emails from the same lady. And quite frankly, the effort of remaining sweet in spirit has just sucked the life out of me. Which probably means that I am not very sweet in spirit because other wise it wouldn't be an effort.
Now, all I want to do is curl up and close my eyes. Why am I telling you all this? HMMM... because I want you to know that my darling daughter deserves more than a post saying here we are and I love her. She deserves blessings and praises. And I almost allowed Satan to steal the joy I would gain by bestowing that on her.
She is a beautiful person in every sense of the word and a young lady who brings joy to even the least of strangers that cross her path. Kaitlin takes the time to speak to anyone she meets in the course of her life and will not part ways until she has brought a smile to their face with a compliment or praise.
She loves the Lord and tries to shine forth that love. Particularly to little children we encounter at church and in public. Since she was little more than a toddler, she has made a point of sharing the Gospel with anyone the Lord sends her way and even some people she went and hunted down herself. She spends hours almost everyday studying in God's word and has memorized a great deal of scripture over the years.
She is generous with her time, belongings and talents. Teaching others, especially her siblings with an enthusiasm unmatched by most people. Helping the children with special projects like going bug hunting with Samuel to feed his preying mantis or going out in the rain at dusk to dig a grave when the critter didn't make it.
She is so intelligent, capable and knowledgeable in so many areas that it is not unusual to hear, "I don't know but if Kaitlin said it then it must be true." She delights in learning and researching new things and has become the go to man when someone has a new topic to study.
I am sure I have already said this, but it warrants saying again. I can not believe that my daughter is 18 years old. When I look back at the adversity she has had to overcome and the tenacity that she used to do so, it is difficult to believe that she is the little premature baby that weighed a mere 4 pounds and 10 ounces when I brought her home. How can she be the same baby who was so weak that she could nurse for one or two minutes at a time before falling asleep?
And yet, here she is. Almost ready to make her way into the world. Almost ready to graduate. And to marry and to hold her own baby. Where did the last 18 years go?
As is our family tradition, we have all written our praises and blessings for our daughter, sister and friend. (Emma collected these and wrote the list out for me. I wish I could copy the spelling because from what I have seen it is hilarious. You might not know what it said, though, so I am cleaning it up for you. Phonics does not make good spellers.)
I will go first: See above for what I admire about this wonderful young lady that was entrusted to me so long ago. The blessing I claim for her is that she would never lose the fire that God has put in her. The thrill of living, loving, learning and conquering.
Nathaniel: I admire that she does stuff that she does not want to. Example: She didn't have to go into the attic (to get stuff down for the kids) but she went anyway and had a good attitude. My blessing is that she will grow to know more about the Bible.
Emma said that she admires that Kaitlin loves to learn about the Bible.
Aedan admires that she is sweet and his blessing is that she will grow in God.
Ellie admires that Kaitlin will let her borrow her fur. Her blessing is that Kaitlin will always know how to fix her bling.
Samuel is grateful that Kaitlin helps him care for his pet critters and bury them when they die. His promise is that she will always have a sweet spirit toward others.
Brianna admires Kaitlin's generosity and the way she will put aside what she is doing to help the little ones. The blessing she claims for Kaitlin is, "As you grow into an adult for wisdom in all your decisions.
Pa had this to say: "The first thing you notice about Kaitlin is that she is at ease talking to anyone and makes everyone her friend (much like her mother). I also admire the fact that she has a desire for the pursuit of truth and wisdom; learning has always been easy for her. Blessing for the new year: "That she apply what she has learned all her life. That she never lose the generosity of her heart. That she always know that the Lord is in control and accept his direction with joy!"
Oh, dear readers. The reason you came here was to see pictures, right? I thought it would be fun to do a then and now. So here we are around Kaitlin's second Christmas. (Elisabeth wore that outfit last year!)
And here we are in a picture taken earlier this week.
And here is a particularly horrible picture that I am including even though it shows that I was seriously sleep deprived. Kaitlin was diagnosed with a kidney abnormality when she was just a few weeks old. She spent a great deal of time in and out of the hospital for IV antibiotics and fluids at different times. This was just following a week long hospitalization that included needles in her scalp. I spent the week not sleeping, sitting up in the chair next to her bed.
I didn't own a camera when Kaitlin was born and in the first years. She was not in the mood to be photographed this night but someone had loaned the camera to me and I wanted to make sure I got a picture of her before I had to return it. The dress she is wearing is one that I was Christened in as a baby. Even though we don't Baptize our babies, I took pictures of each of my girls in this gown. As I was saying... this is an awful picture, but I was coerced into posting it anyway because
someone
thinks that Kaitlin's picture above looks just like me in this one. You be the judge.
Now if you haven't been in the picture this week, go get your camera and get a shot before your baby is 18 years old and no one knows you were there for the experience!