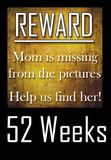 I've accepted
Carin's
challenge, as a Mom, to get back into the picture. The idea is that once a week you take a picture of yourself with one or more of your children. It's that simple. If you'd like you can post your picture on your blog. You can let me know you posted so I can check out your pics. You can
check out my previous weeks
or Click the button to add your name to the Mr.
Linky
. Have fun!
For those who are just joining us, I am in
Italy
getting acquainted with my new nephew. The internet here is sketchy and comes and mostly goes for days at a time. For the first time in 30 weeks I am late getting up my 52 week post. But here it is. Better late than never.
So in keeping with the theme of my trip to Sicily, this weeks photos will be of me and Gabriel, who happens to like his Zia. Or so I would like to think. Thanks for joining me on my journey and don't forget you can click the button on the sidebar to check out
Allen's blog
to see what is happening back home with my little peppers.
Our first meeting at Catania airport. How surprised I was to see him and Mama there to greet me.
After a bath and change to get all the travel germs off, I got to hold my little fellow.
A good night's sleep and we were ready to tackle the world. Well, Gabriel's first bath, anyway. Which he LOVED. Not like most of my babies who cried through their first visit to the tub.
While Ben and Di napped, I got baby all to myself. We rocked, sang and read until Ben sneaked in with a camera.
Can you guess what we are doing here? We sending a post back home to the cousins.
I hope you enjoyed this little introduction to life with Gabriel. Now get your camera take a picture so I can see you around here next week.