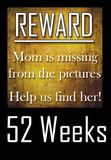 I've accepted
Carin's
challenge, as a Mom, to get back into the picture. The idea is that once a week you take a picture of yourself.
Give the camera to your hubby, the kids, the grocer. Who cares. Just pass it off and say cheese.
It's that simple. If you'd like you can post your picture on your blog. You can let me know you posted so I can check out your pics. You can
check out my previous weeks
or Click the button below to add your name to the
Linky
and take a look at all the others.
It is not too late to get in on the fun so grab that camera right now and let's go!
This week is a hodge podge of fun at Art's Chili Pepper. Do you see the fabric?
Do you recognize it?
I know it looks a bit orange in the photo but it is in fact a vibrant red. I was thrilled when the package arrived the day before Thanksgiving so I had time to hem it for our holiday table. What do you think the boys are doing? They are watching the motor work as I sew. Boys!
And here is the finished product. Allen snapped this picture to send to a friend who we couldn't be with for the holidays. Di, by the way, I love this blouse you sent to me. A perfect fit!
And fixing the mushroom gravy. Heidi, I swear that story is coming one of these days!
Decorating the Christmas tree.
Usually, one of the children put the angel on top. Allen asked me to do it this year. What a treat for Mama.
Elisabeth decided to sit it on our Bible study. Can you tell where my favorite spot is this time of the year?
And... I don't know... except that I was putting Elisabeth's shoes on so we could walk around the yard and see the lights the kids had hung on Saturday afternoon.
Elisabeth was very tired. I was able to sit and rock her for a very rare moment. She even fell asleep on my lap. We pulled the rocker into the dining room and I sat and cuddled her while the family ate dinner.
Reading by the the light of the tree before bed is a favorite evening activity during the holidays. Before the season is out we will have worked through a stack of favorites like, "A Christmas Carol" and some new books.