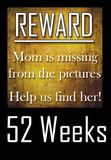 I've accepted
Carin's
challenge, as a Mom, to get back into the picture. The idea is that once a week you take a picture of yourself.
Give the camera to your hubby, the kids, the grocer. Who cares. Just pass it off and say cheese.
It's that simple. If you'd like you can post your picture on your blog. You can let me know you posted so I can check out your pics. You can
check out my previous weeks
or Click the button below to add your name to the
Linky
and take a look at all the others.
It is not too late to get in on the fun so grab that camera right now and let's go!
Before I get started I have a little note to Sande... (and anyone else who is interested)
You asked so sweetly and I promised to tell you the story... but the truth is life has been a merry-go-round lately. Mark you calendar and I promise to post the story of why my blog is called Art's Chili Pepper on December 20th.
Happy Thursday!
Kat
Now, back to our regularly scheduled post.
Here I am with Elisabeth taking the ornament out of her calender to put on the tree before tucking her into bed. Watch future posts for an explanation of this tradition and how it got started.
And this was our sledding party on Saturday afternoon. You can read more about the fun of our first snow storm of the year
here
.
Sunday afternoon we spent the better part of an hour trying to get one good family portrait for our Christmas cards. Yikes! I knew I should have done it first thing in the morning when everyone was fresh but here we are. We took about 50 and barely got one good one of everyone. Brianna did take some of Allen and I. Here is one of my favorites.
Now please, please, please... go get your camera and take a picture or two. Til next week, I will leave you with this.
Note to Carin:
Dear Carin,
What happens now? The year is drawing to a close. This challenge has been such a blessing to me. For at least one year of my 18 child rearing years to date, my family will know that I was here! In looking back this morning, I also realized that I took far less pictures of my hubby than I did in previous years. (I need to work on that.) Probably because since everyone else had the camera taking my picture, I didn't have it as much. This inspired us to give cameras to a few of the children who are now having a blast learning the art of photography. Even if we do have a lot of pictures of feet to show for it, this is a gift that will last their whole lives. Carin, my friend, you have touched the lives of people half way across the country, whom you have never met! Did you figure on that, I wonder? I bet not. I have come to love my Thursdays and look forward to those posts so much. I will miss visiting with you and everyone else in the 52 week challenge. So what will you challenge us with in the new year?
Your blogging- picture taking- buddy,
Kat