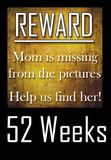 I've accepted
Carin's
challenge, as a Mom, to get back into the picture. The idea is that once a week you take a picture of yourself.
Give the camera to your hubby, the kids, the grocer. Who cares. Just pass it off and say cheese.
It's that simple. If you'd like you can post your picture on your blog. You can let me know you posted so I can check out your pics. You can
check out my previous weeks
or Click the button below to add your name to the
Linky
and take a look at all the others.
It is not too late to get in on the fun so grab that camera right now and let's go!
And air hockey with my friend, Katrina. Yes, I know we look like sisters. Everyone says that. I won by the way.
And snuggling with sick Elisabeth. No I am not above using a child's sickness to get some prime cuddle time.
Nathaniel took this one at Bonefish grill when we took him and Kaitlin for a date to do some Christmas shopping and eat dinner.
We had some little friends over for an evening this week. We made gingerbread men and ate pizza for dinner. It was a mess of flour and sprinkles all over but we had fun and they tasted delicious. I love gingerbread real old fashioned gingerbread in all its shapes and sizes.
I know you are all up to lots of fun family stuff right now. I know you are taking pictures of everyone along the way. Don't forget to get one of you while you are at it.