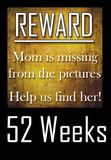 I've accepted
Carin's
challenge, as a Mom, to get back into the picture. The idea is that once a week you take a picture of yourself.
Give the camera to your hubby, the kids, the grocer. Who cares. Just pass it off and say cheese.
It's that simple. If you'd like you can post your picture on your blog. You can let me know you posted so I can check out your pics. You can
check out my previous weeks
or Click the button below to add your name to the
Linky
and take a look at all the others.
It is not too late to get in on the fun so grab that camera right now! What better time than Christmas Eve to get out that camera and take a picture?
Now on to my pictures for this week. We always hang the "fun" ornaments that play music or move or do something the little ones enjoy near the bottom of the tree. One evening last week, Elisabeth and I sat playing with them.
I forget who asked, by the way. But a few weeks someone asked if there was a heat vent here since I liked to sit there so often. Actually, there is a vent but we heat with a wood stove and it does happen to be just below that spot. But the reason I like to sit there is so I can stare up at the tree.
Due to the snow storm, our brunch from Saturday got moved to Monday morning. Which was indeed a very special time with our dear friends. While they were over, which ended up being a wonderful whole day of doing nothing together, they took this photo of our family.
And then we took a few of the children together. And then the children took a bunch of us together. This was my favorite.
This was a picture of Elisabeth and I when we had our date this week. Each year for exactly one day, I have the house to myself. Allen and the kids go for a day of Christmas shopping and lunch. They usually end the day with shopping for groceries for the holiday meals. I always use this day to finish projects, bake, wrap, catch up with friends I neglect the rest of the year or spend some special one on one with whoever is the baby that year. Ellie and I baked 12 loaves of bread, made chocolate crinkles and stained glass cookies and whipped up the last batch of egg nog sample. It is hard to take a picture of yourself. I think Elisabeth looks adorable, though. Of course, when doesn't she?
I hope you all are enjoying a Merry Christmas Eve and I wish each and everyone a time of blessings and family fellowship as you build memories together.