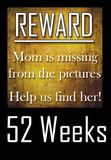 I've accepted
Carin's
challenge, as a Mom, to get back into the picture. The idea is that once a week you take a picture of yourself.
Give the camera to your hubby, the kids, the grocer. Who cares. Just pass it off and say cheese.
It's that simple. If you'd like you can post your picture on your blog. You can let me know you posted so I can check out your pics. You can
check out my previous weeks
or Click the button below to add your name to the
Linky
and take a look at all the others.
Now for my pictures this week. Now that four children have their own cameras, there seem to be a large number to choose from!
Why is it that every Christmas has a plethora of photos with bows stuck on the heads of various family members?

Elisabeth modeling all five of the hair bows Nathaniel gave her.
Singing carols with the family on Christmas night.
Getting the children ready for bed on Christmas Eve.
Dinner on Christmas Eve
Painting cookies with Brianna. You can check this technique out on
her blog
.
We always open the gifts that were mailed from friends and family on boxing day instead of on Christmas Day. That way they don't get lost in the shuffle. I was thrilled with the piece of pottery my sister sent from Caltagiorne.
Likewise, with so many children and so many gifts... well, they each get so excited to choose gifts for their siblings that I like to be sure they each get the attention they deserve. Instead of opening them on Christmas Day, each child gets a day to give their gifts in the week following Christmas. They all beg to be the first to give out their treats. Elisabeth was thrilled with her "bling" box from KK.
And everyone wondering what she has given to me.
Are you looking for a New Year Resolution? Well, here it is! Grab a camera, take a picture and post it today!