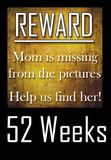 I've accepted
Carin's
challenge, as a Mom, to get back into the picture. The idea is that once a week you take a picture of yourself.
Give the camera to your hubby, the kids, the grocer. Who cares. Just pass it off and say cheese.
It's that simple. If you'd like you can post your picture on your blog. You can let me know you posted so I can check out your pics. You can
check out my previous weeks
or Click the button below to add your name to the
Linky
and take a look at all the others.
If you want start fresh for 2010, Carin has a new challenge. Check it out on her blog at Forever in Blue Jeans.

Now for my pictures this week. I have only one offering. Since Christmas, this has been the scene at my house. The flu times nine. I would be the one in the flamingo pajamas with swollen eyes and red nose. On a good day, we manage to all get out of our pajamas before dinner time. The bad days are spent in front of videos. We are attempting to get some school done, and not doing so bad if I do say so myself.


Just for fun here it is... the flu by the numbers.

Number of swine flu shots: 9
Number of standard flu shots: 9
Number of cases of swine flu: 8
Number of standard flu cases: 9
Days of sickness: 15 and counting
Estimated number of Advil tablets consumed: 50
Bottles of children's Advil liquid: 2
Boxes of kleenex: 25 and counting
Cases of citrus juiced: 5
Videos watched: 42


Here are some funny little tid bits for you. Brianna was scheduled to volunteer at storytime Monday night. As she would be exposing 20 or so little kids to what we have, she called first thing Monday and left a message for the librarian that we are all very sick and have been for a long time. She said if there was any way she could get someone else than that would be for the best of everyone involved. We got a return call 90 minutes before Brianna was supposed to report. Not only did they not have a replacement but they asked for Kaitlin to come also! I can not fathom what part of the depth of illness they did not understand.

I would be curious to hear your opinions on this one here. Each year, for a number of years now, we have hosted a gathering for friends and neighbors. Last year we did a post holiday party and it was such a big hit we planned another pot luck for January 5th. See message above concerning a lot of sick people to understand that we made the decision to cancel it on Monday. Allen and I had some discussion as to who should be notified. We invite in excess of 150... our church family, neighbors, relatives and friends who would not fall into any of those three groups are all invited. The invitations clearly state RSVP by December 30th. I chose to contact the people who said they were coming, assuming that those who did not call were not planning on attending. Allen felt we should call everyone on the invite list. Last night, as I sunk into a tub with a burning fever, there was a knock at our door. Sure enough if there wasn't a family standing there with dish in hand. They had not called to say they would be attending. Allen spoke to them and explained we had to cancel because of the flu. Do you know what the father said? "It would be best if we don't come in then because I just had a kidney transplant and can not be exposed to germs!

Do you think we were obligated to call everyone or just those who gave an RSVP? Just wondering?