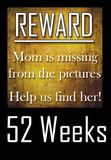 I've accepted
Carin's
challenge, as a Mom, to get back into the picture. The idea is that once a week you take a picture of yourself.
Give the camera to your hubby, the kids, the grocer. Who cares? Just pass it off and say, "Cheese."
It's that simple. If you'd like you can post your picture on your blog. You can let me know you posted so I can check out your pics. You can
check out my previous weeks
or Click the button below to add your name to the
Linky
and take a look at all the others.
If you want start fresh for 2010, Carin has a new challenge, "Shoot Me!" Check it out on her blog at Forever in Blue Jeans.

Don't you love when hubby comes home at the end of the day? I sure do! Especially, on the first day of work after he's been on vacation for a while. How much more do we appreciate five o'clock on those days? One of the kids captured it with the camera. (The kids having their own cameras sure helps with this 52 week business.)


Big hugs!

Ok... that's enough. I have work to do!
That is about it for pictures this week. I have been pretty sick yet and since it is my blog I have the right to only publish pictures I think are attractive. Rubbed raw nose just doesn't fit the bill. I did find this one from Allen's birthday.