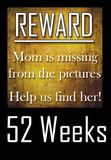 I've accepted
Carin's
challenge, as a Mom, to get back into the picture. The idea is that once a week you take a picture of yourself.
Give the camera to your hubby, the kids, the grocer. Who cares? Just pass it off and say, "Cheese."
It's that simple. If you'd like you can post your picture on your blog. You can let me know you posted so I can check out your pics. You can
check out my previous weeks
or Click the button below to add your name to the
Linky
and take a look at all the others.
If you want start fresh for 2010, Carin has a new challenge, "Shoot Me!" Check it out on her blog at Forever in Blue Jeans.

Here is a funny one that Allen took while Kaitlin and I were both working on the computer.


This is our busiest time of the year for school. We work from 8 until about 4 every day. We do double days during this time so that we can call it quits by the beginning of May when the weather turns nice and we want to turn our attention to the outdoors. This has worked well for us the last 8 years and knowing they can put their books away earlier than most kids motivates them to work diligently.


We have moved our school to the basement where we can be warm by the wood stove. This works well for Elisabeth, too, so she can hang out in the play room while we work. The basement is a disaster of books, manipulatives and projects in the works from Monday to Friday. On Friday afternoon we tidy it up and put everything away so we can enjoy the game room and family room through the weekend.


Reading practice with Aedan.

When Allen is home I make a big breakfast and we all sit down together. When he is traveling, though, I like to get right down to business. We put muffins, fruit, juice and fixins for tea and cocoa on the buffet as well as a kettle of water on the wood stove. Then everyone helps them selves to breakfast while we work. The kids have dubbed this the break room.


And there you have it. A busy home school week in Wachter world.