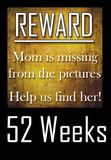 I've accepted
Carin's
challenge, as a Mom, to get back into the picture. The idea is that once a week you take a picture of yourself.
Give the camera to your hubby, the kids, the grocer. Who cares? Just pass it off and say, "Cheese."
It's that simple. If you'd like you can post your picture on your blog. You can let me know you posted so I can check out your pics. You can
check out my previous weeks
or Click the button below to add your name to the
Linky
and take a look at all the others.
If you want start fresh for 2010, Carin has a new challenge, "Shoot Me!" Check it out on her blog at Forever in Blue Jeans.

I had no pictures of me this week. It was 42 so we went outside for some fresh air and I ended up on the teeter totter with the kids. Kaitlin grabbed the camera and snapped a few shots for me to post. Thank the Lord for Kaitlin.


I love Elisabeth's face in this one! She would go up and down FOREVER!
When the kids got tired and the sun started to set, they decided to find the good old indoors again. We read some books and had a cuddle by the fire until they warmed up again.
And if you've not been there yet, stop by 365 Ways... and check it out.