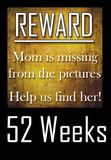 I've accepted
Carin's
challenge, as a Mom, to get back into the picture. The idea is that once a week you take a picture of yourself.
Give the camera to your hubby, the kids, the grocer. Who cares? Just pass it off and say, "Cheese."
It's that simple. If you'd like you can post your picture on your blog. You can let me know you posted so I can check out your pics. You can
check out my previous weeks
or Click the button below to add your name to the
Linky
and take a look at all the others.
If you want start fresh for 2010, Carin has a new challenge, "Shoot Me!" Check it out on her blog at Forever in Blue Jeans.

For those who were expecting my weekly health post on Wednesday, keep an eye out for it to appear in the next few days... at the latest next Wednesday... featuring the requested glimpse into my meal plan. I also have exciting bread news to share.

In other news, for those who are waiting for replies, particularly my 365 Ways... ladies, they too, will be forthcoming.

Nathaniel lost a tooth this evening, if you happen to be counting. Which he is. As is Aedan. The one thing about having boys so close together is that EVERYTHING becomes a competition. Even, who can lose the most teeth first.

One more note, to those who have been praying for my friends Tony and Carrie, who are awaiting the arrival of their twins, after a very troubled pregnancy. The boys are nearing the monumental 34 week mark when delivery is considered respectably safe. At last report, Carrie was still holding her own with the side effects of medication to stop labor. Don't stop praying! I will keep you updated and you can stop by their blog to read more details.

For those who could care less about all that rambling... here are my photos for this week. Which, are not many. It has been a week of little time for anything but what comes flying at you right that moment... do you know what I mean??? If you are a mom, you surely do!

I haven't had much sleep all week, actually I now have two very long, sleepless nights under my belt, which is why I am behind in blog world. So, this evening, Allen took Brianna and Aedan to the grocery store. Emma, Samuel and Nathaniel were making a coffin for their newly deceased lizard, and Kaitlin was doing... something.

It is not often I get Elisabeth all to myself and I was looking forward to it. Except that I was so tired I did the unthinkable.


I put in a Baby Einstein video and got her to stretch out on the love seat with me so I could get forty winks before chaos returned and I had to serve dinner.

I only actually got 10 because Baby Einstein, while delightfully educational, are very short and Elisabeth's attention span for videos is even shorter.

It was long enough for Kaitlin to take a few pictures so I could squeeze in just in time for the deadline! Yeah, KK!

Now, my friends, I am off for a long awaited 7 hours of interrupted shut eye bliss! See ya, tomorrow.