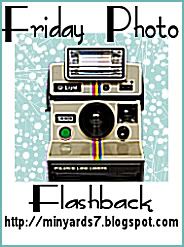 I am joining Alicia at
More Than Words
in her Friday Photo Flashback.
My mom was a wonderful seamstress. When we were little girls she made us beautiful clothes for our dolls that my little Ellie plays with today. I remember her winning Grand Champion in the County Fair and sewing her own negligees.
I often asked her to show me how but one thing my mom lacked was the patience to share her talents. Even though, I always desired to learn how to make my own clothes, when I got married, I had to get help from a friend just to sew a loose button back on my coat.
I still desired to master this practical and gratifying skill, though. I must have talked about it alot because one Christmas, I think it was 1998, my hubby surprised me with a sewing machine of my very own. It was the most wonderful gift I ever received. I have used it endlessly since, taught others to sew on it and my three daughters now sew prize winning garments and quilts on it.
When he gave it to me, Allen also knew that I would need someone to teach me how to use it. I am not particularly mechanically inclined and reading manuals puts me over the edge. I learn by seeing and doing. So, he asked a dear friend of mine who was a great seamstress to come and give me sewing lessons.
We still talk about the memories we made in those days at Joann's choosing patterns and fabric and the many hours at the machine sewing dresses. Here in February 1998 you see my dear friend Katrina with Kaitlin and Brianna wearing the first dresses I ever sewed. We had to make the photo black and white because it scanned so poorly.
We sewed many outfits together after that. She would bring her machine and while our babies napped machine beside machine I would sew a dress for one of the girls and she would sew for the other. She moved to California the following year, until 2007.
Since they were transferred back here, her daughter and Emma have worn many of those matching dresses. Each time we see them together we say, "I remember when we made that." or "Do you remember the dress with the chick buttons?"
You can see a more recent picture of Katrina in this
post
.