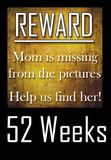 I've accepted
Carin's
challenge, as a Mom, to get back into the picture. The idea is that once a week you take a picture of yourself.
Give the camera to your hubby, the kids, the grocer. Who cares? Just pass it off and say, "Cheese."
It's that simple. If you'd like you can post your picture on your blog. You can let me know you posted so I can check out your pics. You can
check out my previous weeks
or Click the button below to add your name to the
Linky
and take a look at all the others.
If you want start fresh for 2010, Carin has a new challenge, "Shoot Me!" Check it out on her blog at Forever in Blue Jeans.
Mom is still suffering from the migraine. Tuesday she was much better then yesterday hit rock bottom again. Today is Thursday. Which means time for the "Getting Mom Back". Only problem is that Mom can't look at a computer screen for too long. So she asked me, her tech support, to do it.
And what pictures could be more appropriate then these?
Mom cuddling with Ellie Friday evening. Or Mom trying to sleep and Ellie enjoying "Baby Einstein".
Nana (Brianna) writing for: