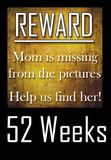 I've accepted
Carin's
challenge, as a Mom, to get back into the picture. The idea is that once a week you take a picture of yourself.
Give the camera to your hubby, the kids, the grocer. Who cares? Just pass it off and say, "Cheese."
It's that simple. If you'd like you can post your picture on your blog. You can let me know you posted so I can check out your pics. You can
check out my previous weeks
or Click the button below to add your name to the
Linky
and take a look at all the others.
If you want start fresh for 2010, Carin has a new challenge, "Shoot Me!" Check it out on her blog at Forever in Blue Jeans.

I am missing all of you and hope to be able to get around to visit this week. And dear Carin, I do hope your little man is feeling better. Every day I think I am going to write you a note and let you know that we have been praying for him, but somehow the day comes to an end and I never quite can get to it. We praying for his quick and full recovery.

And now...

Brianna took this first one before I ran to town with Allen on Friday. After a whole post of me sleeping last Thursday we thought we should be sure to get with me vertical this week.


Kaitlin took this one while I was laying out a new quilt I am working on. Which before anyone tells me how impressed they are, you should know that I bought the fabric to make a baby quilt for Aedan. He is going to be seven in April and I am just now getting around to it. As a matter of fact, I had to add the blue and change the design because I had enough fabric for a newborn not someone as tall as Aedan.
Sunday we were so happy to be able to go to worship. Between my migraine and the back to back blizzards we haven't been to church in a number of weeks. This was also the final service our departing Pastor was in. He left on Monday for their new home in Texas. The Pastor had asked a young man from our congregation to take a photo of our family for a scrapbook. I figured as long as we were all in one place and relatively neat and tidy and since I had my camera (yes, I always have my camera in my purse) I might as well have him take one of us for me, too. So here it is. Kaitlin closed her eyes in both shots.
I am including this second picture because I think Elisabeth's eyes are so funny. I have no clue what she was looking at. It is amazing her eyes didn't get stuck that way! Just kidding. Somebody used to say that when I was growing up. Can't remember who.
Love til next week,