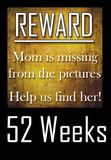 I've accepted

Carin's

challenge, as a Mom, to get back into the picture. The idea is that once a week you take a picture of yourself.

Give the camera to your hubby, the kids, the grocer. Who cares? Just pass it off and say, "Cheese."

It's that simple. If you'd like you can post your picture on your blog. You can let me know you posted so I can check out your pics. You can

check out my previous weeks

or Click the button below to add your name to the

Linky

and take a look at all the others.

If you want start fresh for 2010, Carin has a new challenge, "Shoot Me!" Check it out on her blog at Forever in Blue Jeans.
Allen took this picture of me and my girls. How God has blessed me! I just look at this sweeties and my heart melts.
And for all those who were wondering where I have been... Passover preparations (post to follow someday ☺)... Easter preparations... schooling... homework... studying (not as much as I should be)... sewing (another post to follow ☺)
In case I don't see you before the weekend, Happiest of Easter celebrations from Wachter world!