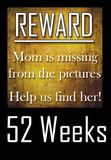 I've accepted
Carin's
challenge, as a Mom, to get back into the picture. The idea is that once a week you take a picture of yourself.
Give the camera to your hubby, the kids, the grocer. Who cares? Just pass it off and say, "Cheese."
It's that simple. If you'd like you can post your picture on your blog. You can let me know you posted so I can check out your pics. You can
check out my previous weeks
or Click the button below to add your name to the
Linky
and take a look at all the others.
If you want start fresh for 2010, Carin has a new challenge, "Shoot Me!" Check it out on her blog at Forever in Blue Jeans.

Elisabeth climbed up on my lap to help me while I was working on Aedan's quilt. Which is making wonderful progress with this whole math day thing going on. With no one to teach school to... I've had lots of time for all those things that get pushed aside! My ironing pile is depleted, I made a batch of peach almond conserve and I finished the top of my quilt all in two days... not to mention, my house is tidy and the laundry is all washed and put away. Woo hoo! Can't wait until next year's competition.

I am just teasing you. Of course you all know I LOVE home school and wouldn't trade it for anything... but as I told Allen last night as I dropped my aching back into bed, I've gotten soft. With 6 kids in school this year, I've forgotten how much hard work went into doing real housework all day long.


Sam is too young to compete so he and I pulled out the Rod and Staff Mother's Helper cook book and made a little treat to feed our number crunching students. This is a super cute little book for moms with ones as young as two. I have had it since my oldest was little and they all love to make their first solo creations from it. It happens to contain a super delicious and super easy granola from scratch recipe for those who might be interested. My Aedan and Sam make it and we keep a batch in Tupperware for snacks and quick breakfasts.

There is a line forming for my lap top so off go until next week.

Hugs,