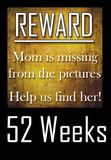 I've accepted
Carin's
challenge, as a Mom, to get back into the picture. The idea is that once a week you take a picture of yourself.
Give the camera to your hubby, the kids, the grocer. Who cares? Just pass it off and say, "Cheese."
It's that simple. If you'd like you can post your picture on your blog. You can let me know you posted so I can check out your pics. You can
check out my previous weeks
or Click the button below to add your name to the
Linky
and take a look at all the others.
If you want start fresh for 2010, Carin has a new challenge, "Shoot Me!" Check it out on her blog at Forever in Blue Jeans.


Today Samuel asked if he could take my picture. It was his first shot going solo with the camera so we got some interesting shots.


He did better on this next one except that I wasn't ready.
This one was a great improvement over the first one.
And then Nathaniel had to have a turn.
Well, at least he didn't start with his finger over the lens.
We're all looking the right way this time.
Yes, that huge cookie was Sam's lunch. After a day of baking, making salsa and jam, and fixing a meal for tonight, I didn't have the time or energy to make lunch. So instead of cookies for dessert we had a picnic of cookies for lunch by the playground.
OK... I give up. How about one of those cookies for Mama!