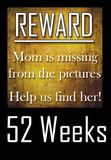 I've accepted
Carin's
challenge, as a Mom, to get back into the picture. The idea is that once a week you take a picture of yourself.
Give the camera to your hubby, the kids, the grocer. Who cares? Just pass it off and say, "Cheese."
It's that simple. If you'd like you can post your picture on your blog. You can let me know you posted so I can check out your pics. You can
check out my previous weeks
or Click the button below to add your name to the
Linky
and take a look at all the others.
If you want start fresh for 2010, Carin has a new challenge, "Shoot Me!" Check it out on her blog at Forever in Blue Jeans.
Looking at the old camera card there are no good pictures of me this week. Kat, there is the answer to your question from a few weeks ago. I can take plenty of lousy pictures! Here look for yourself. Allen took this one at the zoo. I think I must have blinked.
And then there is this one he took while Elisabeth was "helping" me with Aedan's quilt. Of course I was in my nightgown. Why do men always take your picture when you have no makeup on or you are in your nightgown? Don't answer that. I know it is the same reason that the first time I dyed my hair, it took my sister to mention it weeks later before Allen noticed I had gone from being a burnette to a red head. Men do not notice details.
One night when I was dressing to go out, the girls were digging through my closet and found my wedding dress. They begged me to try it on to see if it would fit. Amazingly enough, if I didn't breathe it did zip up.
I am nearing the end of 52 weeks and can not tell you enough... what a blessing it has been. Get out there and grab a kid, a friend, that hubby of yours and get in the picture!