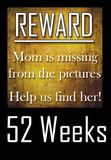 I've accepted

Carin's

challenge, as a Mom, to get back into the picture. The idea is that once a week you take a picture of yourself.

Give the camera to your hubby, the kids, the grocer. Who cares? Just pass it off and say, "Cheese."

It's that simple. If you'd like you can post your picture on your blog. You can let me know you posted so I can check out your pics. You can

check out my previous weeks

or Click the button below to add your name to the

Linky

and take a look at all the others.

If you want start fresh for 2010, Carin has a new challenge, "Shoot Me!" Check it out on her blog at Forever in Blue Jeans.
Last Thursday Allen had to go to town. We decided to make it a date with Elisabeth and he treated us to lunch at Pannera. The weather was a perfect spring day so we sat outside. He took these pictures of me and my darling. I thought Ellie closing her eyes in this one was adorable.
I don't know who took this but it was while we were making our meringues last Thursday evening.
Brianna took this one of Allen and I as we were leaving for church Sunday morning. How handsome is he???
I bet you are wondering what Emma and I are up to?
Cooling off under the fan!
It was 93 here yesterday. Since the humidity is very low, that wouldn't normally seem hot. But with very few leaves on the trees is felt very uncomfortable. With no shade to be found we flopped on my bed under the fan to cool off for a bit.
Until next week,