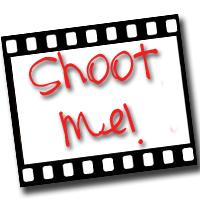 As I write Pa and Mom are zooming on their way to good old Philly. You see, Pa goes there pretty much every week and this week he had a 7:30AM meeting. That would mean getting up way early to drive all the way for a one hour meeting just to come back....you get what I'm saying.
So Pa came up with the brilliant plan of asking his bride to go along with him the night before and then spend the night there. Eliminating the need getting up early and getting a few hours of along time with each other.
But Mom (as some of you know and others have guessed) is a very busy women. The fact that she keeps up a blog
AMAZES
me, who can hardly keep my blog up and post once a day and I only have a fraction of the responsibilities that she does. But today with allergy doctor, grocery shopping, packing,
AND
60+ pages of Bible reading...she ran out of time to get her
Shoot Me
post up. So she asked me to "guest post" for her. Now, you have already found out that I am not
HALF
as good as Mom is when it comes to writing (if you read my blog you already know that)
BUT
the great thing about today being a
Shoot Me
day is that
ANYONE
can snap and upload a picture of themselves and jot down a few lines about it. So if you are interested in joining in (trust me. If I can do it, you can too) go on over and link up at
Carin's blog Forever in Blue Jeans
.
And without any further beating around the bush, here's today's picture:
Looking through the camera card, the only pictures of Mom we had, Mom threatened us with our lives to post *smiles*. So right before they took off we snapped a few. Of Pa and Mom this is the best one....but something
always
happens and this time Emma blinked (come on, girl!).
Anyway, there you have it folks. Anyone know why I was so blessed to get such awesome (and great looking) parents? I'll never know, but I thank God for them.
Love to all blogging friends of Mom!

p.s. tech support apologies for the double signature, but I'm sure you will understand that it could not be helped:)