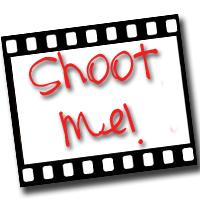 I am joining Carin at
Forever in Blue Jeans
for her weekly challenge to get mom in the picture. If you've not been in the picture this week, it's not too late! Here's my four step plan to recovery. 1-Grab the camera 2- grab a kid 3- take a shot 4-post it! You can't ask for easier than that. I can't wait to see you in the picture.
Last Friday, Allen had some errands in town. He invited me along and we took Emma for a little one on one time. First stop was Chick-fil-A to preview the new spicy chicken sandwich which will be added to the menu shortly. For anyone in driving distance of Chick-fil-A I am here to say, we love spicy food around the old Wachter mansion but one bite of this sandwich was enough to tell me I will stick with the french fries. HOT! Allen said if it wasn't fried, we typically enjoy the grilled sandwich, he would have liked it. He just doesn't care for the fried foods.
Oh, and by the way, no you don't need glasses. Saturday, I noticed I had a bunch of fuzzy pictures on my camera. When we investigated we realized that when the boys were using it the other day they got some smudges on the lens.
We were rewarded for our patience, when the weather dawned sunny and warmed up enough to work outdoors on Tuesday. We got lots of weeding, transplanting, pruning and trimming done. Then we headed to the pool for lunch and our Bible lesson. The kids actually swam, but it was not quite warm enough for me to take the plunge.
Hugs until next week,