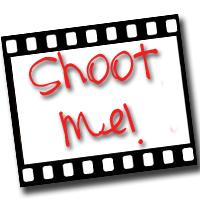 I am joining Carin at
Forever in Blue Jeans
for her weekly challenge to get mom in the picture. If you've not been in the picture this week, it's not too late! Here's my four step plan to recovery. 1-Grab the camera 2- grab a kid 3- take a shot 4-post it! You can't ask for easier than that. I can't wait to see you in the picture!
When we bought our house in 2001, the basement was finished with tile floors and paneling. Before we could even move in, we had to gut the entire 1200 square foot space. Flooding at some point, unbeknownst to us, (our home was an estate sale and had sat empty for some time) had left the place filled with mold and mildew. I couldn't take more than one step inside the front door without my asthma inhaler.
The immediate plan was to get the rest of the house up and going with remodeling, two new rooms, new floors, windows etc... and then move to finishing the basement.
Two weeks after we moved in, we discovered the source of the water issues. A torrential down pour brought water pouring into the basement, bringing with it lots of mud and yuck. The plan changed.
We began digging trenches and excavating the earth around the house to correct what was a badly done job. We cleaned up hundreds of gallons of water before the job was complete. I thought I would be happy never to see a drop of water again.
Six years later, when my mom mentioned the possibility of a home theater, work got underway to refinish the basement, with hopes to be finished in six months, before Elisabeth was born.
Three years later, we were just about to the final stages, when we had a flood in the basement, this May. It seemed rather minor at first. A hose in the air handler got backed up with mold and it overflowed. We dried the water up, fixed the hose, and bought a dehumidifier. We knew that some of the laminate wood floor had been damaged and would need replacing, but we were not concerned. After all, that is why we went with this type of flooring. My regular readers know that the summer took some tough twists and turns that pushed the floor way to the back burner.
It wasn't until the first week of school that we realized the serious extent of the damage. After a day of lessons, me and several of our children were having breathing problems. That still didn't clue us in.
It was the spilled milk that did it. On Wednesday of that week, our dairy order arrived. The kids were carrying the glass jars to the spare fridge in the basement when I heard that dreadful sound. "Crashing glass" followed by "oops." Insert Samuel's cute little squeaky voice here. Brianna volunteered to clean the glass and milk off the steps and rug in the foyer at the bottom of the stairs. When Kaitlin jumped in to lend a hand she noticed milk was leaking through the cracks in the steps to the closet below. She thought of my photographs stored under there and began pulling them out and wiping the leaking milk from the top of the photo preservation boxes. The outside of the boxes are glossy and so no damage was done there.
However, she discovered that the undersides of the boxes were wet and covered with mold and mildew. It was a horrid sight. Anything in the world could have been ruined and we would have tossed it in the trash and never thought twice about it. Photographs, though. Everyone, was devastated as we stared at a lifetime of memories sitting in ruin. As we sorted I tossed at least $1000 worth of creative memories scrapbooks and supplies. It was a slow and tedious process for two reasons.
First being, my severe allergy to mold and mildew. After about five minutes my eyes were swollen, I itched from head to toe and breathing was difficult. It has taken about a month for me to finish sifting through that.
Second being, as I made each discovery, I got too discouraged and had to quit. For example, here is what's left of Elisabeth's baby book.
We began sorting through the photo boxes and scanning what seemed salvageable.
And then we began to investigate the extent of the damage. With the help of my brother, we tore up almost the entire wood floor. When all was said and done, the bathroom was gutted and all but one room of the basement had been affected.
Ta-da. Welcome to my finished-unfinished-refinished-unfinished, again basement.
And then there is school. We moved school down to the basement last fall in order for Allen to have the school room for an office. *Sigh*
What else was there to do but set to work. And I mean everyone.
The boys and I ripped up the tile and trim in the bathroom and treated the mildew on the walls, behind the baseboard and growing on the concrete underneath.
In the meantime, Kaitlin learned how to lay tile in the closets.
All the kids helped in some way... hauling trash, hammering boards, opening boxes, fixing meals... it was a true blessing and we had a lot of fun working until 1 am.
We still had a full schedule to keep with outreach, fair entries to sew and submit and a number of other pressing issues that had to be tended. We only had four hours to work by the time all was said and done on Saturday.
We discovered rather early on that the new flooring was slightly shorter and narrower than the bit of old flooring we were able to save. Which meant by the time they met up, we had a gap to contend with. It seemed the only option was to rip up what we had been able to preserve.
Except by that point Saturday night, we were all so delirious, I was able to convince Allen to try to shift the entire old floor to meet the new floor and close the gap. Having a large family, really paid off here. We lined them all up to hold the boards that were giving us trouble.
And what do you know? It worked!
Unfortunately, by Sunday morning, most of the family was suffering from some degree of illness ranging from a sore throat to cough etc...
But we had accomplished much. Tile was down, window was in and trimmed, almost the entire wood floor was finished, a dress and a costume were sewn, the girls participated in a church outreach, we even managed to do homework and feed the family.
Which just goes to show what you can do when you all work together for a common goal. What seemed a daunting and discouraging task, became a joyful memory and fun time of family fellowship, when everyone rose to the ocassion and gave it their all.
Even when some of us, had no idea what we were talking about.
Until next time,