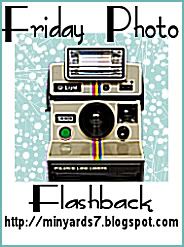 Today I am joining
Alicia at More Than Words
in her
Friday Photo Flashback
. It's been a long time since I stopped by, not because I don't LOVE this carnival. I think it is a blast to go back to the old film days and revisit our younger memories. Lack of time to blog is definitely the reason for my deficiency in this area.
One bright side to the flood in our basement and the damage to my photographs is that I have to dig through boxes and boxes of memories in our attempt to save and scan a few bits of our family history. We have had an opportunity to relive many things that were long since buried in the treasure trove of our memories. This particular photograph, I have been searching for since we moved here in 2001. The frame had been damaged and I was afraid the photo would become scarred in the move so I tucked it away in a safe place. I have looked and dug and fretted over it to no avail.
Last weekend it turned up stuck with mildew to some other portraits. The only picture I own of my precious Italian grandparents, Frank and Carmella Paternoster.
This was taken just around the time they were married. Because it was printed on a textured linen type paper, it was difficult to get a good scan. I will be taking it to a professional to see if they can preserve it by removing the mildew or perhaps somehow get another print. In the interim, I am happy to have this much of it.
When we talk family, these two were it! They both came from enormous clans with many brothers and sisters and they took maintaining the family unit very seriously. A legacy that Allen and I have tried to carry on.
My grandfather died just shortly after my second birthday, so I never had an opportunity to know him as I would like to. My own memories of him are limited to just one occasion of him playing with my brother, sister and I just a few weeks before his heart attack. To hear people talk of him, he was just about the greatest guy that ever walked the earth. Humorous, smart, handy, helpful and always serving others. A bit like my good husband.
My grandmother loved him with all her heart until the day she died. I remember visiting with her as a girl. I would sleep in the other twin bed in her room. Each night before she went to sleep, she would kneel to pray and then she would reach in the drawer under her stockings and take out a few photographs of him. She would look through them, sometimes smiling and sometimes with melancholy on her face. Being young, I didn't understand the depth of those moments. As a wife and mother who has seen many loved ones come and go, I now understand where my own love of photographs came from.
With my own mother so detached from my life, eventually leaving altogether when I was twelve, my grandmother was the world to me. I can think of no times I enjoyed more or looked forward to with more eagerness than visiting with my Gram. It was she who taught me how to be the woman I am today. By her side, I learned to cook, clean, be a home maker, wash laundry, iron, serve others, act like a lady, volunteer in the community and go through life with the heart of love toward your fellow man. And that's just the beginning.
When Kaitlin was born, you couldn't find a more adoring great grandmother. How precious were the weeks she came to stay as I made my way through the uncertain waters of new motherhood. In my heart I will always treasure the summer of 1993 when she came to stay two weeks with me. My sister-in-law asked me about a recipe that my grandmother made quite regularly. Which led to a discussion about preserving those recipes. I will be always grateful to Anne for thinking ahead on that. For the duration of her visit, Gram and I spent Kaitlin's nap time at my kitchen table writing down all the recipes Gram made from memory that had been passed down through the generations.
It was the following Spring when the mitral valve in Gram's heart failed. She went for surgery in which they replaced it with a boar's valve. Allen and I made the four hour drive to be with her during the surgery. How precious those moments were with her. She wasn't supposed to have anyone in her room, but she refused to allow them to sedate her unless I was permitted to stay with her. I can't remember what we said to each other. But I do recall the feel of her hand as she held mine and the look in her eye.
How grateful we were that the surgery was successful. Just a few short months later, when she was diagnosed with Alzheimer's disease, I began to wonder if it was such a blessing after all. She declined quite quickly and became extremely confused. She would call me once or twice a week, as was our habit, and we would chit chat about family matters, Kaitlin, friends in her circle, the latest party she was catering, all the normal things. We would talk for an hour or so and then hang up. An hour or two later the phone would ring again, and we would repeat the entire conversation as if it never happened before.
When she began wandering out at night and started a fire in the kitchen, my father and Aunt made the decision to move her to a nursing home. I only saw her one time after that. She was such an amazing person. She lived to love and serve everyone around her which earned her a place of honour in her community and her family. There was nothing she was afraid to attempt, even if it wasn't always met with success. That was the person we wanted her grandchildren to know.
We made the decision not to take our girls to visit her. We wanted them to see her for who she spent her life being, not what that wretched disease made her. In the fall of 1998 we drove to New Jersey for a weekend with my Aunt and spent a day at the nursing home with Gram. It was so hard to see her there. She knew who I was, sort of. She thought Kaitlin was me. She confused Allen for my father. Much of the time she stared into space as if no one was there at all.
Odd as this may seem, one of the worst things to me was when they brought her dinner. This women who had been known for her cooking and spent her life preparing feasts for everyone around her sat at a table by herself. In front of her they placed a white hamburger roll with a frozen breaded fish filet in between. I could barely swallow the tears in my throat as I stood there thinking that was such a sad irony.
When she died, although, I knew she was incredible, I was still taken by all the people who came to pay their respects and all the beautiful things they had to share. We laughed at the number of people, several of the speakers even, who commented on her delicious cheese balls and lemon lush.
On December 5, 2003 we buried her, as a blizzard started to lay snow over the east coast. It was a beautiful moment. There was nothing Gram loved more than a good snow storm.